Hello friends, today we will tell you through this article which is the best UPS for wifi router within 2000 rupees for you. After the purchase of which, after cutting the power connection of your home, you will give power backup to your WIFI router through the Ups router, so that any internet-related work will not stop any longer. We will give you complete information about the best UPS router product. And will tell you which router is best for you. If your budget is tight but you want to buy a good quality
In this article, complete information about the technology used in the ups router and the special features given in them are given. Which will be helpful for you to choose a good UPS router.
Best Battery backup Ups For Wifi Router
1. RESONATE RouterUPS CRU12V2A For Wifi Router
The RESONATE RouterUPS CRU12V2A power backup is a high-quality ROUTER UPS on a very low budget, being a mini UPS or power supplier to our Wi-Fi router. Which is used to provide power to the WIFI ROUTER we have in our house. Through which internet can be availed without interruption while working, shopping, learning and playing from our home.
CE is a RoHS-certified product designed for daily ROUTER WIFI use in conjunction with WIFI ROUTER. Which comes with several protection circuits, it has used an intelligent battery management system (BMS) for a long time. It can be connected easily.
It is very safe and easy to use. We can connect it by wire when the electrical connection is disconnected. Or, on the first install, it automatically turns ON and gives us the strength of our internet connection.
Its output capacity is 12V, <2A, suitable for powered wifi, wifi routers. It uses (red led) to indicate charging, as well as (green led) to indicate backup. And it comes with an On / Off switch. The high-quality battery used increases its power backup, allowing us to experience the internet without interruption.
---
2.Oakter Mini UPS for Wi-Fi Router
Oakter mini UPS for Wi-Fi Router Uninterrupted Power Backup is very very useful for Wifi very good quality at low budget Ups, that our daily use. With its help, we can easily take advantage of the internet by connecting it to a WIFI ROUTER in the absence of power. This is a good choice for people who are troubled by power cuts, which work to provide power backup to our wifi router.
The Mini Ups comes with auto connectivity during frequent power cuts, which act as a generator to power the Wifi Router. The smart mechanism technology used in this converts to battery power without any hassle. So that we can do all our online work from home, Mini Ups Router for 12V WiFi router provides up to 2 hours of continuous power backup.
The Mini Ups comes with 2 power sockets, easily connecting and working with any type (brand) of any Wifi Router. Works with all types of Wifi Router available in India (Reliance Jio, Airtel, TataSky, Hathway, GTPL, ACT Fiber, BSNL, MTNL, Your Broadband, Acetel, or all types of routers from any local broadband provider). The Mini Ups Router provides 60 to 90 minutes of power backup.
Use Mini Ups when there is a power cut, it can be used for all types of devices like, supports Wifi Router, Adsl modem, CCTV, SET UP BOX, etc.
---
Read Also-Best Wifi Routers In India
3.Cuzor Mini UPS for Wi-Fi Router
The Cuzor mini ups power backup is a very good and low budget high-quality ROUTER UPS, which acts as a power supplier or generator in the absence of power for our wifi Router. With which we can complete all our online tasks successfully from home.
The Cuzor mini UPS Power is the perfect choice of power backup for all devices, which come with 12 V and 2 A ratings. It helps to provide power backups in the absence of power to the performance of devices such as CCTV or security cameras, Wi-Fi or ADSL or fiber-based routers, and even set-up boxes, which are designed with the appropriate technology. , Because its exterior texture allows it to be easily cleaned and maintained without any problems.
The low depth of discharge (DoD) in each cycle charge in the device helps to increase battery life. UPS also has built-in DoD control, which ensures long life. With the CC-CV algorithm, the device ensures us an optimum charging cycle in addition to the long-lasting battery capacity.
The Cuzor mini up a high-quality quality device tan hat has an auto internet connection and auto battery protection,
Which can provide a current of 2A. The battery life of this device is at least 3 to 5 hours in it (red led) as well as (green led) has been used to represent the backup. And it comes with an On/Off switch (orange led).
---
Read Also-Best Router Under 1000
4.SRRK ROUTER UPS for Wifi Router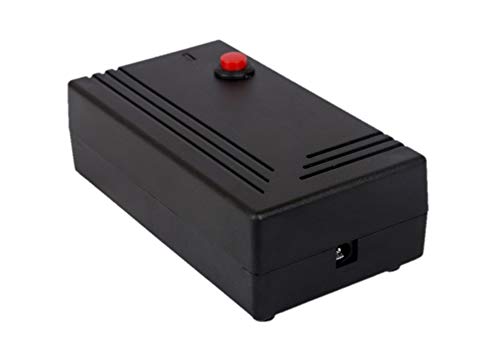 It is used to intercept the power supply to the SRRK ROUTER UPS. Which is to perform power backup for any Wifi Router.
It is very small in size and comes with little weight. Appropriate technology has been used to protect its battery, we can install it in just 30 seconds and take advantage of it if any of the online work is done by us when the power goes out suddenly. We can use it to connect to the power connector of the wifi router and power it so that we can do our internetwork without delay. In a way, it is very useful for all the online work of our home and office.
The 1000 cycle Li-ion battery used in this "helps power backup last longer. It provides up to 4 hours of continuous battery backup once charged with electricity.
Router UPS All types of WIFI ROUTER is a very suitable power device, including 3 types of output connecting cables and an input adapter plug to help support all Wifi routers, and makes it useful. The UPS we use for any small device, For example, CCTV which is 12V and rated less than 2Amps. 12
---
5.powerful Pro Ups for Wifi Router
Powerful pro, 12V, 2A and 9V, 2A Dual Voltage ups the power backup, increasing its battery life. Is the power problem affecting you and your work? So Powerfills Pro is a very suitable Wifi Ups Router for you on a low budget. Power backup to our Wifi Router even in the absence of power
Performs the task of giving, ensures your everyday work and strengthens your internet connection of Wifi, due to which our house, office, and office, etc. are benefited.
The powerful Pro UPS provides up to 6 hours of backup. This device is small, light, elegant, we can put it anywhere comfortably, its smart technology gives us both 9V and 12V selection options, which you can choose appropriately for your device. The high power of 12V, 2A, and 9V, 2A benefits by connecting easily with the available WiFi router and modem in the market.
---
Buying Guide for Ups Router
There are some guidelines for buying a good Ups Router. There are a huge number of bands with different qualities. We listed some questions about buying an Ups Router. 
Ups Router type
There are many types of Ups Router available in the market, make sure about the quality and functions before buying.
2. Battery backup
Before buying an Ups router, always note that the backup capacity of its battery should be high.
3. Ups Router quality
When you decide to buy an Ups Router, make sure the band quality is good and it will work well.
4. Fast charging
Before buying Ups Router, please check its charging speed.  And always take the product with a warranty only.
Latest Post-
---