Best Earbuds Under 3000 Rs: For The Majority Of Us— Including Me— Listening To Music Is The Real Gem.
It makes you feel alive.
When you ask someone, they have a variety of choices for listening to them.
Some need a rock-solid woofer system. Some are happy with earphones. And some use headphones.
But currently, in the world of wireless, earbuds are the most demanding public love when it comes to wireless audio transmission.
It gives you more freedom to move as compared to wired ones.
To help you with getting more ease and elegance while listening to music (or calling), there are some of the best earbuds that I am going to list under the price of 3000 Rs.
Top Best Earbuds Under 3000 Rupees
1. OnePlus Buds Z
Why to buy?
10 minutes of fast charging gives 3 hours of lively audio
Deep bass definition with advanced 10mm dynamic driver
3D dynamic stereo with Dolby Atmos
Impressive water and sweat resistance
Dual-microphones give better noise reduction
Ultra-low latency for gamers
Customizable double tab features
Available in white and grey color
Oneplus always launches flagship killer smartphones. And you expect the same with their OnePlus Earbuds Z series.
These earbuds from OnePlus are way off the limits of their competitor at the price range of 3000 Rupees.
It comes with deep bass technology which enhances the depth and detailing of every beat that hits your ear.
Sound quality further enhanced by the Dolby Atmos Dynamic 3D stereo.
OnePlus doesn't stop yet.
For further vibrant audio tuning, they use Dirac Panorama Sound Transform. In simpler terms, it made you feel a true acoustic performance as you were watching in your own home theater.
While talking about its battery life, you will get a 20 hours charge cycle. More importantly, it comes with a fast charge.
The company claimed, charging OnePlus Buds Z for 10 minutes can give you 3 hours of audio playback.
I hardly comment on that.
But if you charge it for 30 minutes, it will surely give you at least 3 hours of backup.
---
2. boAt Airdopes 441 Pro TWS Ear-Buds
Why to buy?
150 hours of battery backup
One-touch capacitive touch controls
Power backed case up to 2600 mAh
IPX7 marked water and sweat resistance
Best for athletes and sportsman
True Wireless Stereo (TWS) support
A product recommended by Professionals.
boAT Airdopes 441 Pro earbud is well-known for its better bass, longer battery life, and massive power bank functionality.
In terms of bass and battery backup, it beats the OnePlus Buds Z by many folds.
There is no way, the OnePlus Buds Z can beat it in these two categories.
In boAt Airdopes 441 Pro, you will get up to a total of 150 hours (including 5 hours in earbuds) of playback. Moreover, it gets fully charged up in 90 minutes.
In addition to this, it comes with a Type-C charging case.
Like OnePlus Buds Z, it also has Bluetooth v5 that can stay connected within the range of 10m.
However, there are some features that are lacking in boAt Airdopes 441 Pro.
Firstly, the waterproof coating is not as good as the OnePlus buds Z.
Secondly, noise cancellation capabilities. Though both the earbuds have a mic, the noise cancellation performance is not good in these boAT Airdopes.
Some customers also complained about the audio latency drops while attending calls.
But if your main goal is for entertainment purposes, then go for it. Its bass is better than OnePlus.
Please Note: In amazon.in, the rating of the product is 4.0. This is because amazon.in combines the review of boAT Airdopes 441 non-pro version and pro version. That's the reason for quite a low rating.
---
3. SoundPEATS True Wireless Bluetooth Earbuds
Why to buy?
One of the best sound quality
True Wireless: Supports both mono and stereo mode
Up to 55 hours of playback
Provide good heavy bass
Fast chargeable (charges in 30 minutes)
One single charge of case can charge earbuds 18 to 20 times
Perfect fit ergonomic design
If you're searching for the best battery backup earbuds (not the case) under the price of 3000, then go with SoundPEATS Earbuds.
With it, you can use both earbuds with the same device to get a stereo playback.
But if you have two devices, let's say a laptop and a smartphone, you can connect both earbuds separately with a laptop and phone each.
That's amazing, Nah!
But wait! There is more.
It gives a better battery backup (earbud) than the rest of the above two earbuds. Plus, the bass and sound clarity are also good.
Unlike boAT, while calling, in SoundPEATS earbud, very low latency is seen. That makes it a good alternative for OnePlus Buds Z.
Moreover, when you compare OnePlus and SoundPEATS, both seem literally the same. But with SoundPEATS, you will get more bass with decent sound quality.
In addition, loudness is also quite high. So, if you travel a lot, then it would be great for you.
In short, this could be the second-best (the first is Mivi DuoPods M80, discussed later) for music lovers who just want a heavy bass earbud.
Now, let me introduce you to some technical stuff.
The charging casing includes a 2600 mAh battery with a playback time of 55 hours. It has Bluetooth 5.0, which has a decent range.
Read Also-Best Gaming Headphones Under 5000
---
4. Mivi DuoPods M80 True Wireless Bluetooth Earbuds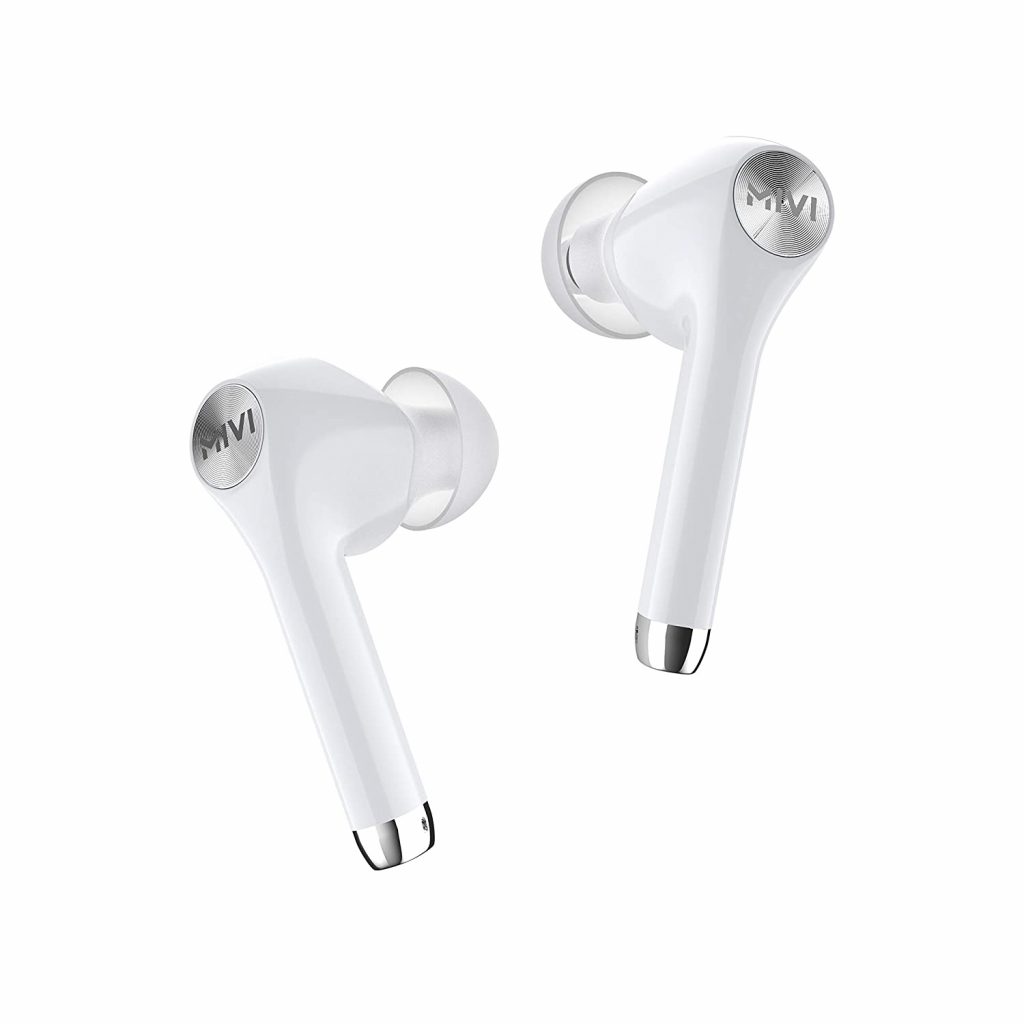 Why to Buy?
Qualcomm Aptx for low latency
One of the best sound quality is this list (best for music lovers)
Bass is good and heavy with crisp and clear treble
Touch Adaptive and multifunctional MFB touch button
Compact and comfortably fit design (even best for small ears)
30 hrs of battery backup
Mivi DuoPods M80 is made to provide you with a studio sound experience. Just pluck it from the case and lean them in your ears.
Even after prolonged use, you won't feel any weight in your ears thanks to their lightweight and ear-friendly design.
In addition to this, Mivi does a great job in improving their audio performance by enhancing the bass and crisping the treble. You can even hear a single beat with clarity.
This is why the Mivi DuoPods M80 offers a sound quality which is very close to that of a studios. That's the same reason why music lovers should go with Mivi earbuds too.
In addition to this, the battery backup is good— even better than OnePlus Buds Z. You can expect at least 25 to 30 hours of battery backup in a single charge.
Despite having an inbuilt microphone, the reception sound quality is feeble and loud-less —unless you speak loud. Plus, the noise cancellation also suffers.
But, if your very first goal is to listen to music, I would recommend you to go only with Mivi. Their bass is even better than SoundPEATS.
Read Also-Best Headphones Under 1000
---
5. Muzieka PlayPods Wireless In-Ear Bluetooth Buds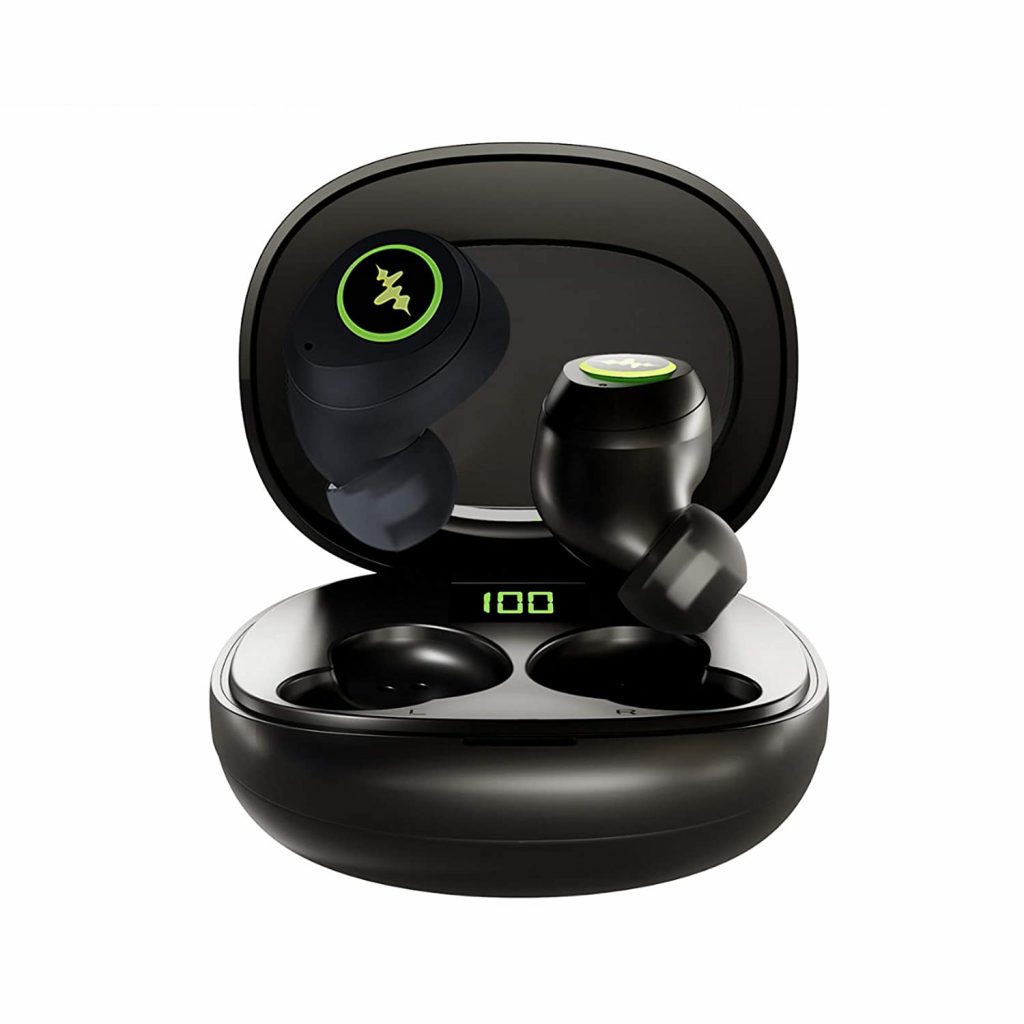 Why to Buy?
30 hours of battery life
Fast charging (within 90 minutes)
9D sound effects with binaural calling
IPX6 water and sweat resistant rating
One-touch pause, play, received, and change songs
Calling quality is better than Mivi and SoundPEATS
Muzieka, an international brand, is meant to deliver high-quality premium products. With Muzieka PlayPods Bluetooth Buds, they do a great job in making a perfect art piece at this price range.
At first, it looks like any other ordinary earbuds.
But when you use it, they feel so light weighted and painless in your ears.
Furthermore, the design is awesome. Because of it, you can move hassle-free without any fear of falling.
One-Touch controls have versatile functionality. You can change songs, receive calls, play, and pause the music.
In addition to this, it has 9D Surround Sound effects that let you feel the sound at a much deeper depth. For some songs, the sound effects feel like you're wearing an Apple earphone. But others feel ordinary.
One of the major disadvantages that might be deal-breaking for most of you is its battery backup. Earbuds can deliver around 4 to 6 hours of battery.
Moreover, the charging buds can only have a capacity of 400 mAh—lower than the competitors.
Apart from that, like OnePlus and boAT, Muzieka offers IP6 rated protection against water, sweat, and rain.
---
Final Verdict
That brings us to the end. I hope you have found the best earbuds for yourself under the price range of 3000 Rupees.
For an easy glance, these are the category best earbuds under? 3000.
Best Overall Earbud Under 3000
OnePlus Buds Z
boAt Airdopes 441 Pro
Best for Music Lovers
Mivi DuoPods M80 Earbuds
SoundPEATS True Wireless Earbuds
Best Battery Backup Earbuds Under 3000 Rupees
boAt Airdopes 441 Pro Earbuds
SoundPEATS True Wireless Earbuds
Best Build Quality Earbuds Below 3000 Rupees
OnePlus Buds Z
SoundPEATS True Wireless Earbuds
Best Bass Earbuds Under 3000 Rupees
Mivi DuoPods M80 Earbuds
SoundPEATS True Wireless Bluetooth Earbuds
Best Earbuds for Calling
OnePlus Buds Z
Muzieka PlayPods Wireless In-Ear Bluetooth Buds
With this, I finally end it. Now, I hope you have a clear thought about your most preferable earbuds that make you feel happier while listening to music even when you're jogging, walking, exercising, or talking.
Latest Post-
---