Best Trimmer Under 1500-I have a theory. You can't deny the importance of a trimmer as a personal grooming tool.
It is not a personal gadget that someone ignores.
I guess you also agree with me.
So, you're searching for a trimmer? Right!
For me, reviewing home appliances and gadgets seems my daily routine. But for you, it might be hard.
This is because there are too many options that create a lot of confusion while buying a trimmer.
Which one is best for me? Which is travel-friendly? What charges fast?…..
It takes me a few hours to comprehend all these queries to make a list post on the best trimmers under 1500 Rs.
My very first goal with this post is, as soon as you reach the end of it, you will have at least one best trimmer that not only fits in the budget of 1500 Rs but is also trustworthy.
So, let's start with the best trimmer under 1500 Rs.
Top Best Trimmer Under 1500 Rupees
1 Mi Corded & Cordless Waterproof Beard Trimmer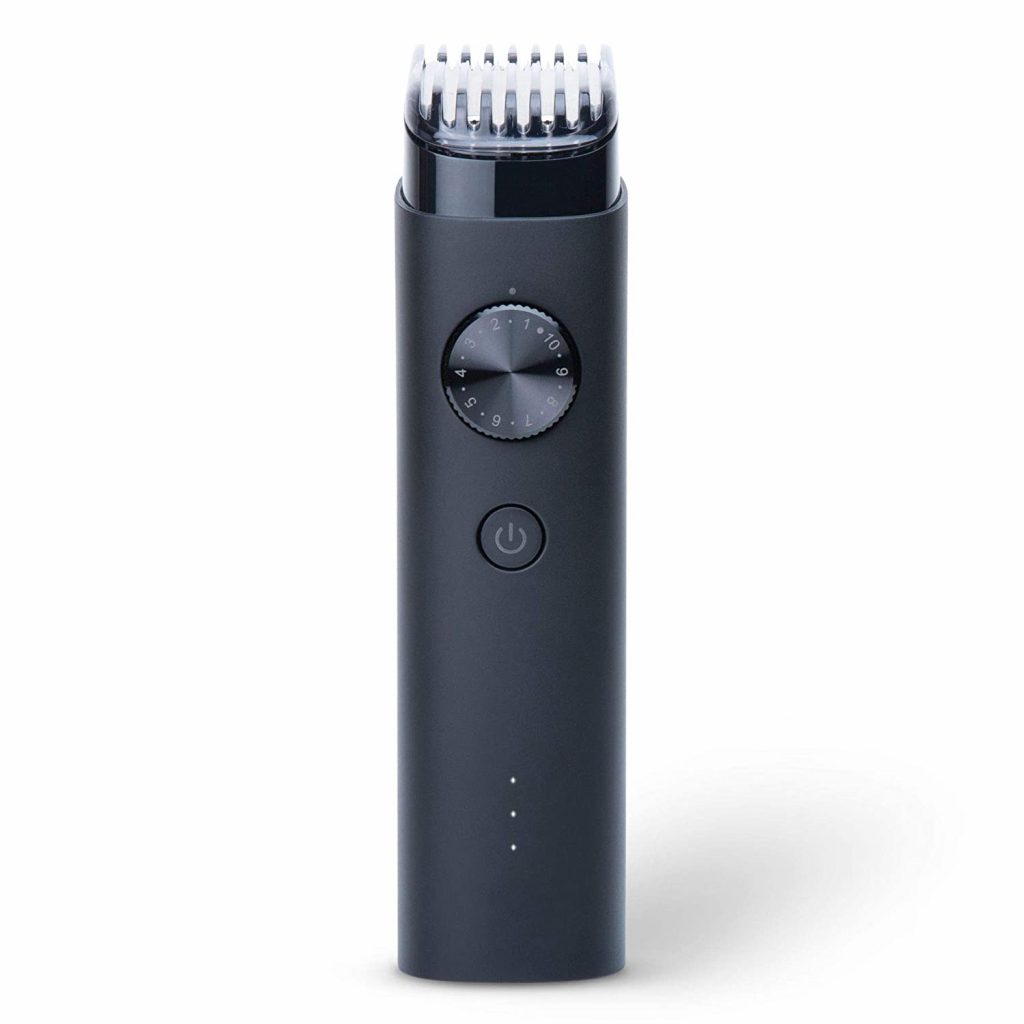 Xiaomi is booming. They make the best product at very competitive pricing.
And this what you will see with Mi Corded & Cordless Beard Trimmer. At first, you can't detect a single con that lets you not buy this trimmer. But there are some.
On paper, all the trimmers seem to be identical.
But. But. But…
Believe me! It has the best build quality among all trimmers under ?1500.
The base of saying this is, "I own one." It's been almost a year since I am using it.
I even cut my head hairs with it.
Before that, I also had a Philips trimmer, but due to battery problems, I have to buy a new one.
So, I just went to amazon and bought Mi corded and cordless trimmer.
You could even say I'm obsessed with it. It not only categorizes the best but also one of the least expensive in this list.
As you may know, due to recent taxes, the price of it is around 1300 Rs, but when I bought it, it was selling for 1100 Rs.
And due to the hike in price, a bunch of reviews on amazon is low rated. Otherwise, Mi trimmer hardly fails you with its promising quality.
There are several options in this price range, but this one is worth considering because it offers a number of advantages that other trimmers lacking.
---
Read Also-Best Trimmer For Men Under 1000
2. SYSKA HB100 Ultraclip Hair Clipper and Trimmer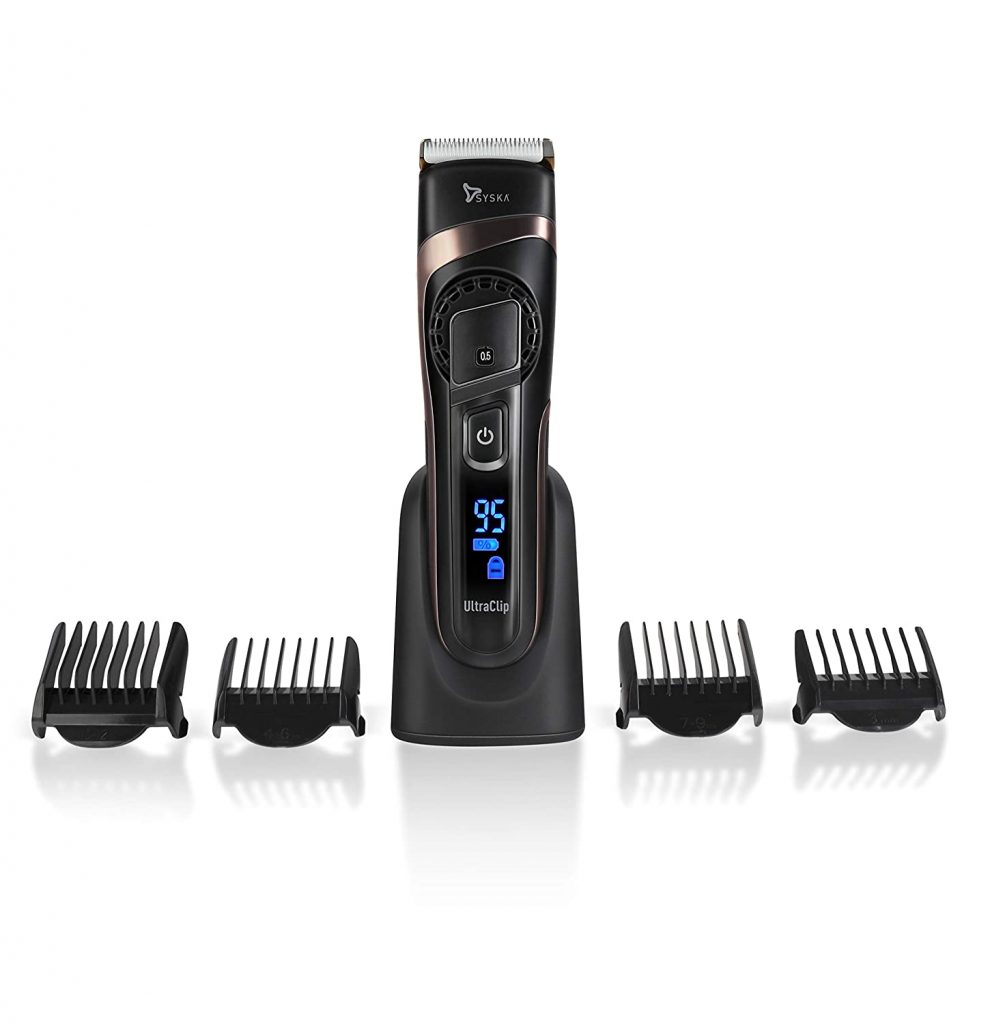 My Second pick is Syska's HB100.
Firstly, the look would surprise you. Thanks to its ergonomic design.
Plus, it feels solid in hand.
And, it comes with 20 adjustable blades with 0.5mm precision that covers almost every styling for your beard and hair strands.
Furthermore, with its 4 stubble comb attachment. So, you can kill any looks that you want.
The trimmer blades are made from corrosion-free ceramic blades which are known to be self-sharpening.
This makes trimming smoother even after a couple of years of regular use.
This sophisticated device has a washable head, so there's no need to be concerned about water damage —unless you soaked it completely.
You can wash the SYSKA HB100 under tap water without any fear of damaging it.
One of the best features of SYSKA's trimmer was the addition of a digital battery indicator that fairly coupled with a dashing charging dock.
In addition, you can fast charge the trimmer and use it for 90 minutes without even hooking it back to the charging dock.
---
3. Philips BT3203/15 Cordless Rechargeable Beard Trimmer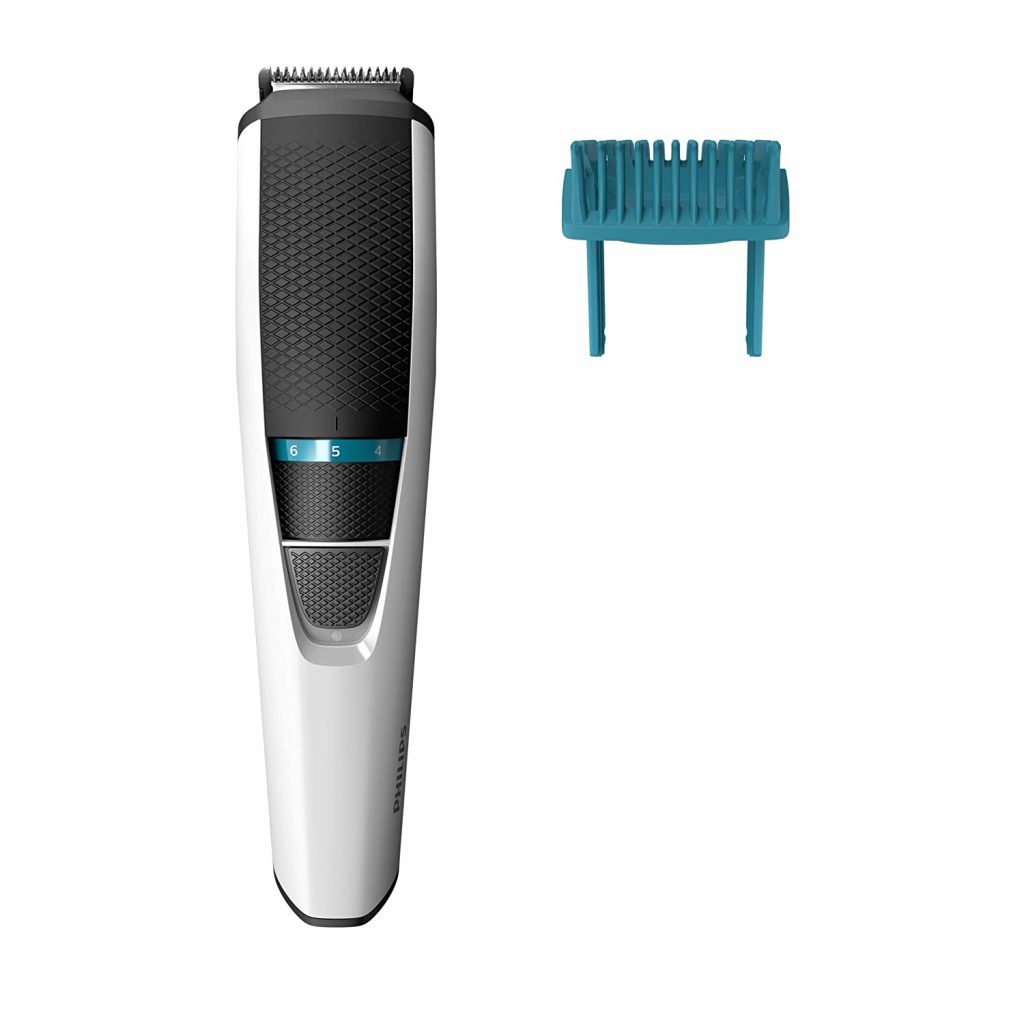 What if you prefer a branded one? Philips BT3203/15 cordless rechargeable is one of the go-with beard trimmers offered by Philips.
It is cheaper. Elegant. Branded. More importantly, does the job perfectly.
You can use it for up to 45 minutes, cordlessly. But with a catch i.e. charging takes massive 10 hours. That's simply crazy—but in a bad way.
Let's say you forget to charge it. In the worst-case scenario, the battery depleted completely in the middle of the trimming.
That totally will be a nightmare.
So, to use it again, you have to at least charge for a couple of hours. And that is not acceptable in today's life.
Conversely, it comes with 10 lock-in length settings and cutting with a precision of 1mm.
Blades of Philips BT3203/15 are made from self-sharpening stainless steel. And with the Life and Trim system, it can cut 30% faster than the regular Philips trimmers.
It also has a zoom wheel that allows you to adjust the cutting length from 1mm to 10mm. However, if you remove the comb, you can trim directly at 0.5mm in length.
Please Note: Philips BT3203/15 cordless trimmer is the best Philips trimmer under 1500. But I would say, invest 300 Rs more, and buy Philips BT3211/15 corded & cordless Beard Trimmer with Fast Charge. 
Read Also-Best Trimmers Under 500
---
4. SYSKA HT3333K Corded & Cordless Trimmer
Second from SYSKA.
SYSKA HT3333K is another trimmer that lets you do both corded and cordless use. That's what is missing in Philips BT3203/15 and SYSKA HB100.
Besides that, you get cordless grooming up to 60 minutes after being fully charged.
What makes it to lend in this list? It's versatile. It comes with 3 attachments. Beard trimmer, precision trimmer, nose, and ear trimmer are included.
So, if you want all of this. This is one of the best multi-purpose personal grooming kits that you get underpricing of Indian 1500 Rs.
Unlike the Mi trimmer, where you need 2-3 strokes for a clean shave but here only one stroke is sufficient.
Therefore, you get a promising clean trimming experience.
Second, SYSKA's trimmer blades are self-sharpening, so you won't have to deal with blunt blades.
However, one of the major drawbacks that many users pointed out is difficulty in attachment. That also makes it hard to clean.
Plus, hairs get easily stuck in the trimmer's blade wheel.
Finally, like other above-mentioned trimmers, you will get 10 lock-in length settings, rounded stainless steel blades, a travel lock with a charging indicator.
---
5. Lets Shave Beard, Body & Head Trimmer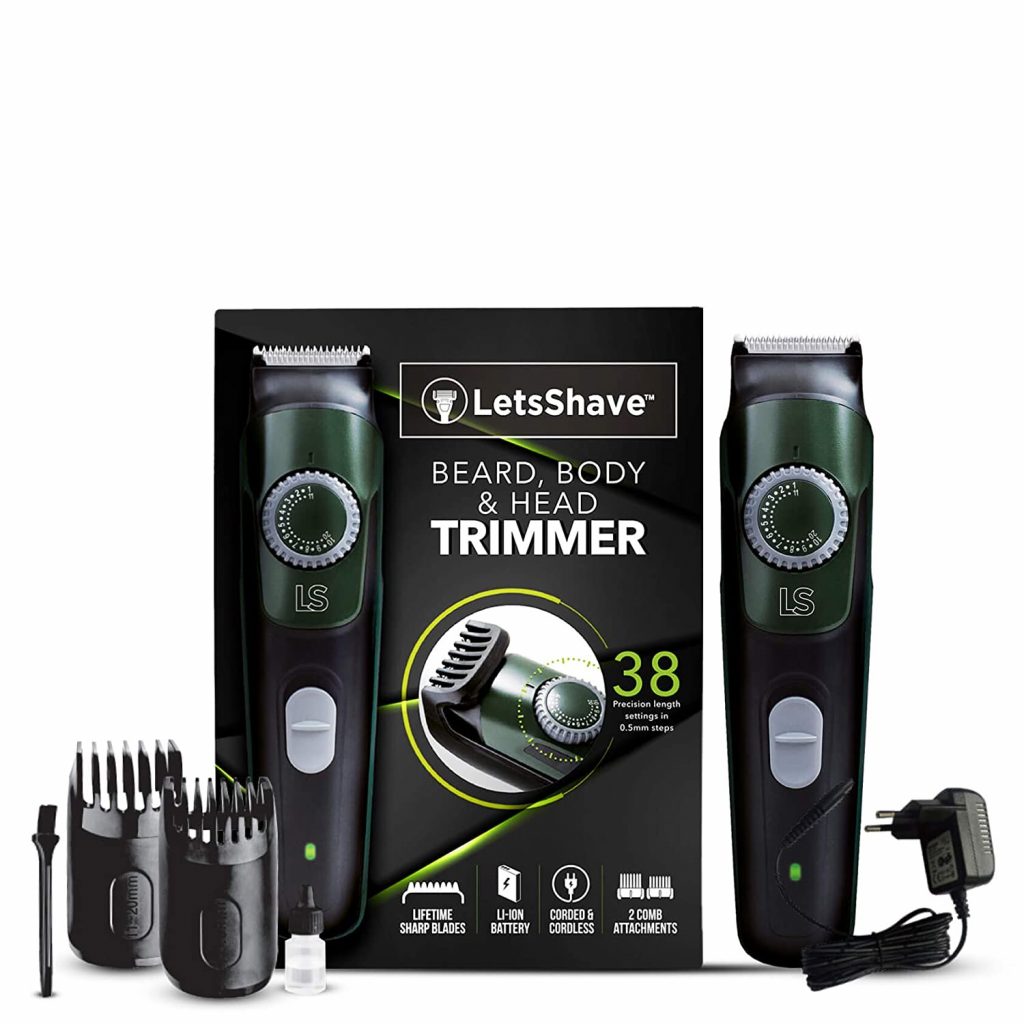 For many of you, Lets Shave is a new name. Truly, it is an uncommon name.
But their trimmer product has the capabilities to outrank the other trusted brands in this list.
Here, with the Lets Shave trimmer, you will get a multi-grooming kit that can easily trim down your beard, body, and head hair.
It is fast. Simple. And gives you a precise and comfortable cut.
The company provides two detachable trimming combs with 38 adjustable length settings. Using it, you can trim up to the length of 20mm.
Talking about the precise dial, it can trim with 0.5 mm precision.
Moreover, it is one of the most underrated and top-performing trimmers under? 1500 with fast charging support.
It takes 2 hours to completely charge and gives straight 90 minutes of run time. You can even use it corded if the battery is totally drained.
Like others, you get lifetime sharpening with a self-sharpening blade. The build quality of both blade and body is premium.
Lastly, an Red and Greenlight LED is used as the charging indicator.
---
6. Havells BT9005 Cord & Cordless Trimmer
If you only want to go with a corded and cordless trimmer then it would be a great alternative for the Lets Shave trimmer.
So, if you don't want to buy a Let's Shave trimmer, you can switch to Havells BT9005. 
Both are literally the same.
But the two major differences that made Havells in this list; firstly, it's 2x more cutting capabilities— so even trimming with a single stroke only.
Secondly, its battery performance. And it's killing it.
You can get up to 50 minutes of runtime that charge fast within pricing below1500 (with bank offers).
Nevertheless, a zoom wheel on the front side of the trimmer gives you all-around flexibility with a length of 10 mm.
Apart from this, you can get nearly the same feature as other trimmers have.
---
7. Kubra KB-5300 5 IN 1 Multifunctional Grooming Kit
Looking for a professional trimmer and hair clipper? Kubra is there for you.
Kubra comes with 5 in 1 multi-purpose grooming kit. You can cut your beard, mustache, nose, ear, and eyebrows.
This is best for you if you're a professional hairstylist.
In the list, it is the fastest chargeable trimmer under 1500 Rs. It can charge within 90 minutes. And give a superb 90 minutes of runtime with ease.
Its 5 trimming blade sets provide you a clean, easy, quick, and smooth finish on your first try.
Furthermore, you will be able to cut your hair at 19 different lengths. It can trim up to a 10 mm range.
Another advantage of using this trimmer is its blades. This makes it accidentally free because of rounded tips.
Besides that, its subtle comb has non-scratching properties that make it comfortable to use.
---
Final Verdict
Are you kidding me? I'm still confused, about what to buy.
Even after reading this lengthy and informative post, if you still have similar thoughts then these are the quick wrap-up summaries that help you get your best trimmers under the price of 1500 Rs.
Overall Best Corded Trimmers Under 1500 Rs
Mi Corded and Cordless Trimmer
SYSKA HT3333K Corded & Cordless Trimmer
LetsShave Beard, Body & Head Trimmer
Best Trimmer With Good Battery Performance Under 1500 Rs
Mi Corded & Cordless Waterproof Beard Trimmer
Kubra KB-5300 Trimmer
SYSKA HB100 Trimmer
Best Trimmer with Fast Charging Support Below 1500 Rs
Kubra KB-5300 (the fastest charging) Trimmer
Mi Corded and Cordless Trimmer
LetsShave Beard, Body & Head Trimmer
Best Professional Trimmer and Hair Clippers Under 1500 Rs
LetsShave Beard, Body & Head Trimmer
Kubra KB-5300 5 IN 1 Multifunctional Grooming Kit
SYSKA HB100 Ultraclip Hair Clipper and Trimmer
Now, I hope you fall, at least, in one of the above categories. If you have any other queries related to the best trimmer under 1500 Rs then you can ask them in the comment section.
Latest Post-
---