Best Bluetooth Earphones Under 1500-Whatever we call earphones, headphones AirPods, they all are almost the same there's hardly a difference in their structure. We have seen that almost every individual uses an earphone, it may be while talking to someone on call or while watching videos, or maybe while playing games. Any device which has Bluetooth connectivity can easily be paired with Bluetooth earphones.

Bluetooth earphones have made it easier for people to do their respective work as it doesn't need mobile phones in hand all the time you can simply connect your earphones via Bluetooth and that's it, also the Bluetooth earphones can be connected to your T.V or Computers. whether you are going for a workout or jogging the Bluetooth earphones can be considered your best friend as they will help you to enjoy your workout.
It is seen that earphones can create a huge impact on one's health, it can reduce stress and make a person do their respective work in a more fun manner.
Best Bluetooth Earphones Under 1500 rupees
There are various different models of Bluetooth earphones out in the market which will almost get you confused on what to select so to make your selection easy we have come up with a list of the best Bluetooth earphones under 1500.
This particular pair of headsets come in a box consisting of a small USB cable, a headset of course, and 2 pairs of earbuds (Large and Small both) which is quite enough. There's a thin controller attached to one side of the wire which includes a microphone, USB charging port, a + button which helps you to volume up or change the song, the – button which volumes down and the middle button performs various tasks such as answering calls, switch on and off the wireless headset.
In terms of comfort, this headset is very good. It also gives you to adjust the size of the earbud according to your comfort as it already comes with two extra buds. The utmost important factor of any earphone is that its sound quality should be perfect. one's you put the right-sized bud and wear the earphones then you are ready to use it, you just need to press the middle button and then pair it with the respective device.

Talking about the battery life, It can continuously be used till 6 hours after that we will get a reminder stating low battery. this 110 MH battery is quite remarkable. The maximum distance up to which this device can work is 30 feet after this it starts getting disrupted.
If we talk about its durability then this particular headset is water-resistant which means that you can carry it while jogging or workout it won't get harmed by sweat but it's not fully waterproof which means you can't use them while taking a shower or while swimming. In all this is a very comfortable and a very nice device.
2.Noise Tune charge neckband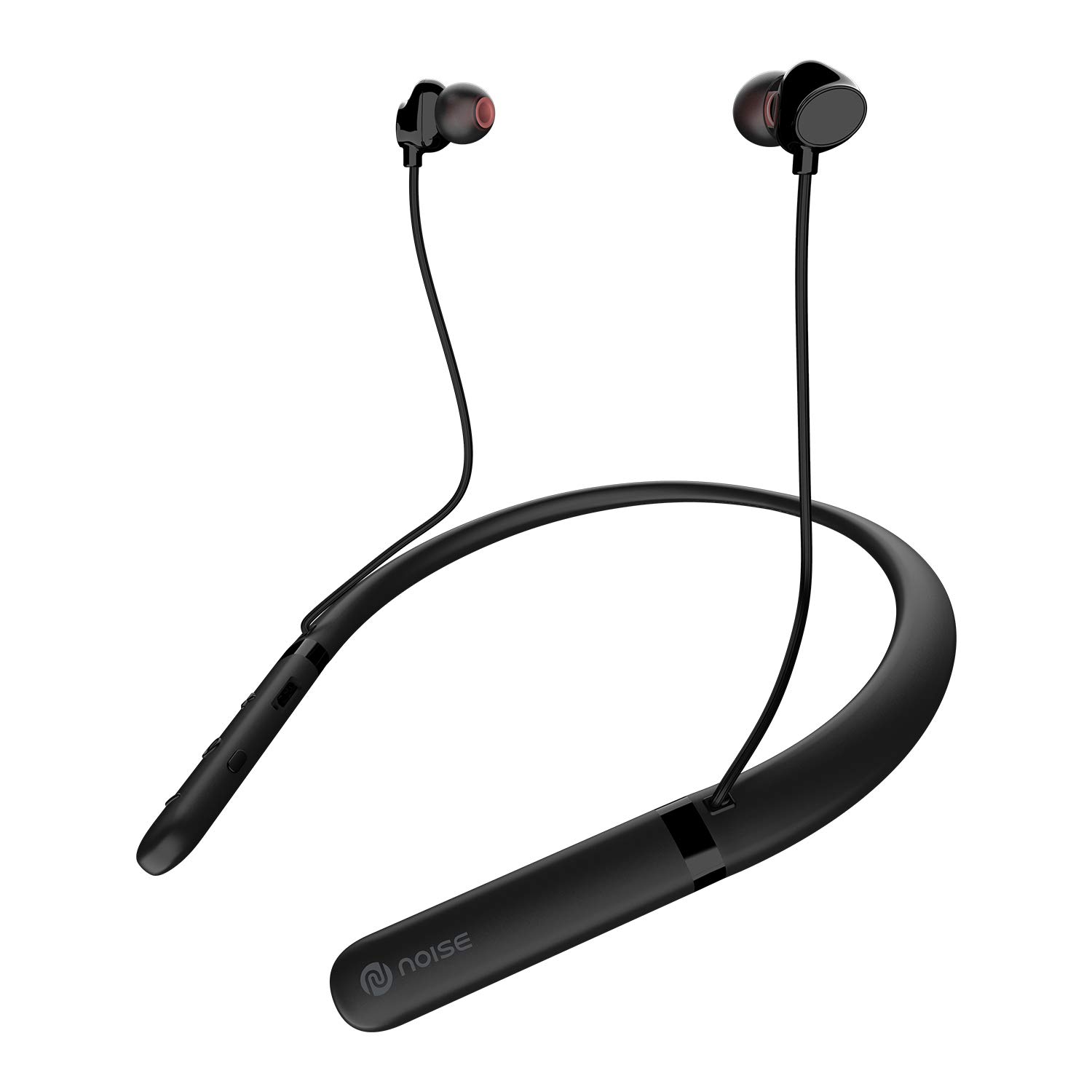 Key Features
16 hour playtime
Dual pairing support
Water resistance
We have this pair of wireless neckbands from noise which is a Very renowned brand known for its audio quality and various other products. This particular headset comes in a box comprising of a USB cable, three earbuds (small, medium, large), and a manual with instructions.
You can easily wear the neckband around your neck, it's very comfortable and it doesn't fall while working. It fits perfectly in-ear and if doesn't then you are given 3 earbuds according to your preferred size. The sound quality of this particular headset is very amazing. It comes with a battery life of up to 16 hours.
The earbuds also provide us with some amount of noise destruction. You just need to adjust the volume every time you pair it with your device. On the right side of the band, you will get a Multifunctional button that is on/off your device and the volume button on either side of the band to volume up and down or change the track.
This headset can be connected to iOS devices, Android, or MP3 players with its Bluetooth 5.0. It gets connected very fast to you devise ones it's paired. Also, you can check the battery percentage of this headset on an android device. A very decent headset.
Read Also-Best Neckband Under 2000 In India
3. Wings glide neckband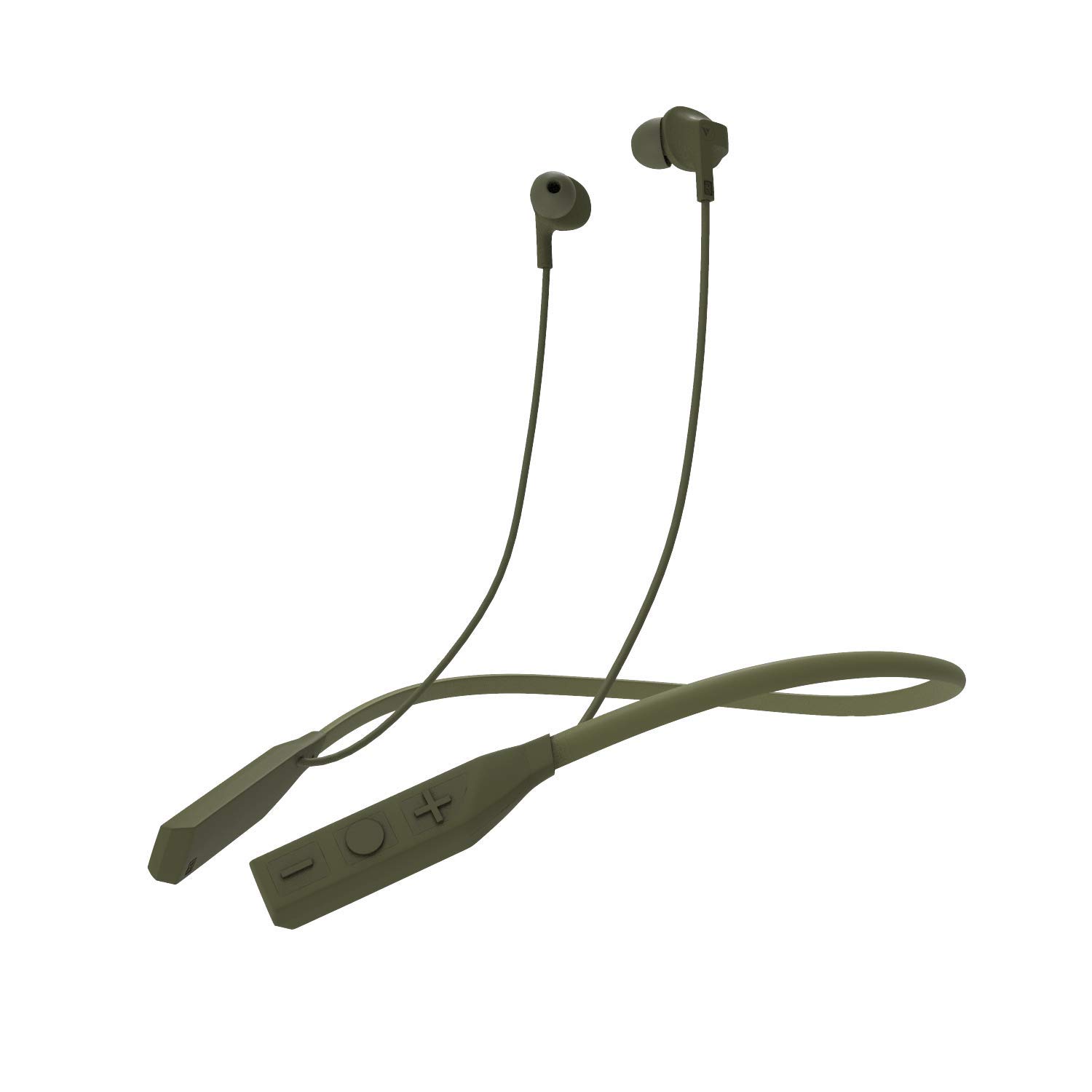 Key Features
10 hours playtime
Take control with ease
Voice asssistant
This headset is a very budget-friendly product that comes in a box comprising of a USB cable manual with instructions and three ear tips Which you can adjust according to your ear size. The product is quite decent according to the price offered. This product does not promise you a very good sound quality but if You don't want to invest much in any product then you can go for this.

Do the design of this product is really very bored but you need to handle this product with utmost care as it is very Delicate and once dropped can be damaged but again you Cannot expect much in this price range. The earphones are made with the use of plastic so they are not bulky in weight and also the ear tips of the neckband fit so perfectly in your ear it feels really comfortable. Also, you are given 3 extra tips so that you can adjust them according to your ear size the ear tips are really smooth.
The ear tips are really smooth. The battery life of this wireless headset is that it can last up to 5 hours which is quite decent. The features on the neckband are less than compared to other headsets the right side of the neckband just has the logo and the other side has a USB charging port and buttons for volume up down and power on/off. But in all this is a very economical and decent earphone.
Read Also- Best Headphones Under 1500
This company boat has always amazed us with their good quality products and they introduced these boat Airdopes which have a very trendy look with very good sound quality. Slowly the technology is getting advanced and we are now getting these airdopes, they come in a cute small case which is also there charging case which means you can store your earphones in them and at the same time you can also charge them.
The earbuds of these airdopes are very comfortable and also you get two extra earbuds of the size small and medium which you can adjust according to the size of your ear. These airdopes come in 2 to 3 different colors. Also, these airdopes are made so differently that they feel so light weighted so that you can have the best experience of these and you can wear them for quite a long time. You get a USB port somewhere on the case To charge the case so that you can charge your earphones.
Also when you need to know the percentage of your airdrops you need to open the case there is no Sign outside the box to make sure that your airdopes are charging or not. The volume of these airdopes is such that even on the high volume you won't feel any disturbance in your ears it makes you feel so comfortable.
Also, these get unpaid after going far from the distance of 10 m and you don't need to pair these again and again once they are switched on they get directly connected to your device. They will also get disconnected once we place them in the case.

There is just one thing that is very disturbing is that you don't get the touch thing on this device you need to press the button for volume up and down or changing the track or on and off which makes the airdrops move further into your ears which is quite irritating sometimes.
5.Mivi duopods a25
Key Features
30 hours with charging case
Control at your finger tips
Splash and sand proof
This particular mivi brand has come hasn't disappointed us and launched their amazing Bluetooth AirPods which generally comes in a small capsule-like case that does both the work of storing and charging.
We get the USB charging port at the back of the case and if you are wondering about the battery indicator then it's inside the case and you will only get to know about it either when you are taking the AirPods out or when you are keeping them inside.
Now it comes with a totally matte finished look which makes the case look super classy. According to the company, this product should work till the 30m limit but usually, it starts getting disconnected after 20m of range, which is quite nice. Now their box comprises this Mivi duopods a25, USB cable, manual, extra ear tips, charging capsule.
Now, these are very lightweight hence they are comfortable in wearing. These AirPods are designed so differently that you don't get confused while figuring out the touch sensors on the AirPods. Talking about the battery life, it can work smoothly till 8hours without any disturbance.
Now the pairing of this device is done very easily and it also gets paired to the last device very quickly once taken out of the case. We can control the functionality via touch sensor one tap and we can reject or accept calls double and similarly single tap for a pause or change the track. But there's one drawback that we can't adjust the volume from the buds.
Now the case of charge along with the buds can provide battery life up to 30 hours which is quite impressive. The price that this product offers is very budget-friendly and also the product is amazing.
6. Truke buds S1
Key Features
72 Hours Playtime
Dedicated Gaming Mode
Revolutionary Graphenes Speakers
Truke company is generally known for their quality products. These Truke buds S1 are also very budget-friendly earphones.
These earbuds are made such as they fit ones eat perfectly. Also, these air buds are made wholely from plastic making them lightweight. The case of these two birds S1 is oval-shaped so the battery inside for charging the Truke buds is also larger Then compared to the earlier Truke buds Q1.
The USB charging point on the truke buds S1 has a Rubber flap for its protection. The battery percentage of the truke buds is shown inside the case. The battery of these goes on for street 10 hours without charging them in between. The case can hold up to the batteries for 72 hours which means it doesn't have to charge before 70-72 hours. A single tap on the earbud and you can't play/pause the music.

You need to hold the earbud to reject calls.
The left earbud lets you play the previous song by holding it for 2 seconds.
The right earbud lets you play the next song after holding it for 2 seconds.
For activating assistant mode you need to double press the left earbud. These are all the functions performed by these earbuds.
Apart from all this, the sound quality of these earbuds is quite good.
One drawback is that it doesn't have a sensor for volume up/down
Conclusion :-
Of course, the main reason for buying these wireless Bluetooth earphones is that they are less heavy than the headphones also these wireless Bluetooth AirPods /headset /earphones are light weighted and very comfortable to carry. Because of this reason only there are so many Bluetooth devices coming up in the market on a regular basis which will almost confuse you while choosing.

These reviews of some of the best products help you and save your time in selecting the best one. These devices just need Bluetooth connectivity and they get connected very easily. These can be paired to iOS or android depending on their variation.
This technology also doesn't need your phone all the time in your hand while you have connected to the earbuds. These products won't cause you any harm until and unless you use them for a certain period of time. These Bluetooth earphones come with lesser risk as they do not cause any disturbance while driving.
So concluding it we can say that the Bluetooth earphones are our new future which will cause less harm and will prove to be more useful. It's just that you need to choose your headset very carefully.
FAQ :-
Does the Bluetooth earphone harms one's brain?
The Bluetooth earphones emit very low radiation which isn't harmful for your ears as well as your brain. It's just that one should use the earphones for a certain period of time, not the whole day.
What if the buds of the earphones doesn't fit properly?
In 99% case you get extra pair of earbuds along in the box they are of different sizes (small, medium or large) you can definitely adjust them with your preferred size.
Can we make calls using the wireless earphones?
You can surely accept the incoming calls from wireless earphones but till now there's no sign by which you can perform making calls via those Bluetooth earphones. This is because every cellular device has its own different features so it's quite impossible to make such earphone that makes a call.