If you need the functionalities like tracking your performance with GPS and heart rate monitoring or other features in a small wrist piece. And don't want to compromise on the classic looks of traditional watches then smartwatches are the best choice for exactly what you're looking for.
So, you made up your mind to buy a smartwatch? We can help you with that, just stick with this post and also read our dedicated buyers guide for the best smartwatches in India.
As in common, the Indian market is crowded with smartwatches from various popular brands like Apple, Samsung, Fitbit, and many more. But which of them will be the best option for you? We sort it down the best smartwatches in India for you.
We put together a list of top models of smartwatches available in India that money can buy. This listing is based on our own extensive research to bring you a variety of options to choose in-between the best smartwatches available on amazon.in.
Top 9 Best smartwatches in India
So, what are you waiting for? Jump right in and read all our best-recommended smartwatches for Indian users, listed as:
1. Samsung Galaxy Smartwatch- Our Top Pick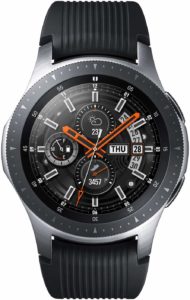 | | |
| --- | --- |
| Compatibility | Android and iOS smartphones |
| Display Type | 1.3 inches super AMOLED touch display |
| Memory | 0.75GB RAM, 4GB internal storage |
| Connectivity | Bluetooth, Wifi, cellular, NFC and GPS |
| Sensor and Tracking | Heart rate Tracker, Accelerometer, Barometer |
| Voice Assistant | Bixby( Samsung intelligence assistant) |
| Charging Method | True Wireless |
| Battery Size | 472 mAh battery cell |
| Battery Drain Cycle | up to 4 days |
You all know that Samsung is one of the top-rate manufacturers of the digital world. And its smartwatches series also dominating the Indian markets.
Samsung's Galaxy Watch (46mm) is the latest in the line of Samsung watches. It does have an impressively long battery life of 4 days. But it's built-in heart rate monitoring, GPS and accelerometer sensor drains the battery much faster and cuts the battery's life to half.
It is powered by Samsung smarts notification with user's based customizable watch-faces. The watch is rounded in shape with a 1.3" super AMOLED touchscreen display panel.
This smartwatch features notification alerts, quick replies, and voice notes using a microphone for talking to Bixby (Samsung intelligence assistant).
Key Features
Smart Notifications
Samsung Pay
Customizable watch faces
Health-fitness tracking
Swim-ready 50 meters
True Wireless Charging
2. Apple Watch Series 5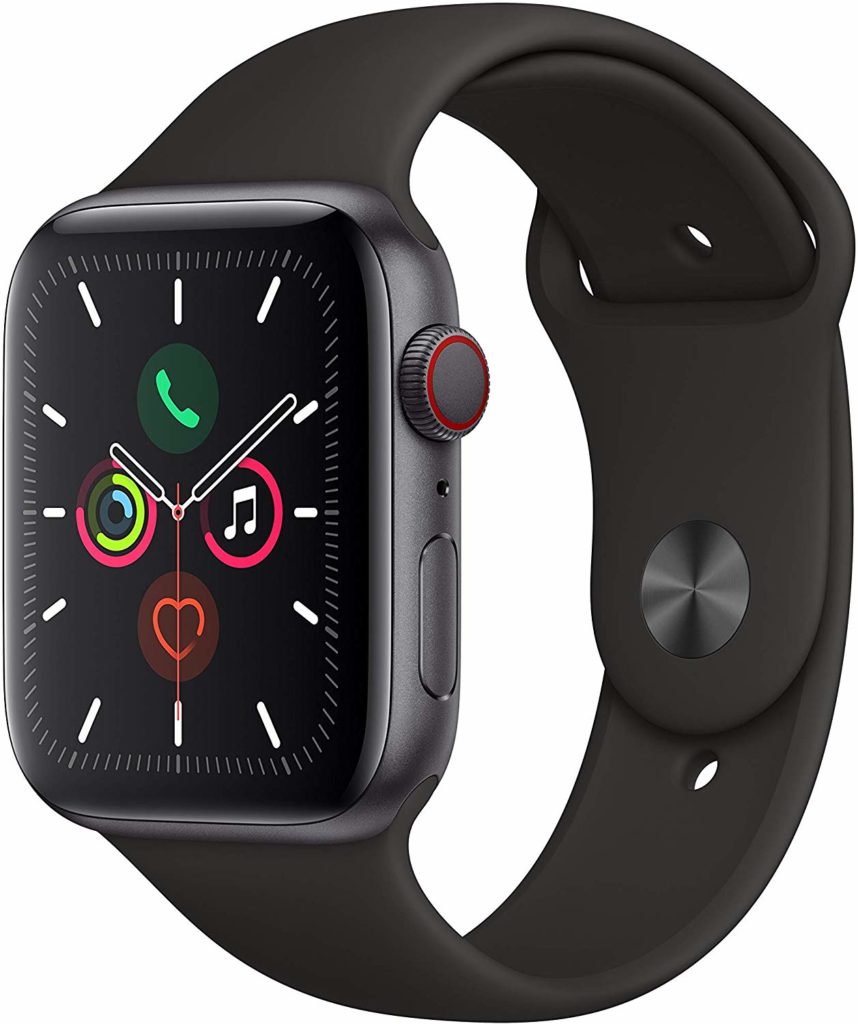 | | |
| --- | --- |
| Compatibility | iPhones only |
| Display Type | 1.78″ rectangular LTPO-OLED touch display |
| Memory | 16 GB of internal memory |
| Connectivity | Cellular LTE, Bluetooth, Wifi, NFC and A-GPS |
| Sensor and Tracking | Optical Heart Rate sensor, compass, accelerometer |
| Charging Method | Wireless |
| Battery Size | 472 mAh battery cell |
| Battery Drain Cycle | Up to 18 hours |
The Apple Watch Series 5 a really well designed but not affordable smartwatch. Although it's a simplistic design with durable build makes it a great option for those who are willing to invest in Apple's smartwatch.
It looks really cool, and I bet you its look is the second most reason for Apple's user to buy this smartwatch as the first reason is Apple's brand itself.
So want to buy it? The Series 5 is available in four basis variant i.e. aluminum, stainless steel, titanium, and ceramic.
If you have an older version of Apple watch, you faced the issue of tapping the watch, again and again, to light up the watch display. And that's why always on-display must needed feature for Apple users.
Apple's claimed that Watch 5 can sustain about 18 hours but many users are struggling to even make it through 12 hours. So, keep in mind to bring your wireless dock with yourself.
This is why we drop it down to number two, in our list of best smartwatches in India.
Note: Only three additional features are upgraded in Apple watch 5 from watch 4 (listed later in the post) are always-on display, compass, and new design materials.
The new upgraded version of Apple Watch Series 5 has a new feature called a compass. You can also add a compass application to the watch's faces.
Features
New design with four variants
Always-on display
Low and high heart rate notifications
International Emergency SOS with a cellular network (LTE).
Rest is the features of Apple watch 4 (discussed later in this post)
3. Samsung Gear S3 Frontier Smartwatch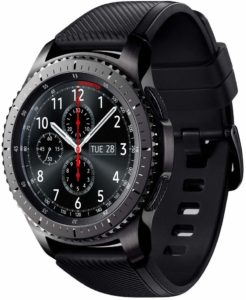 | | |
| --- | --- |
| Compatibility | Android and iOS ( Bluetooth and standalone) |
| Display Type | 1.3 inches super AMOLED touch display |
| Memory | 768 MB RAM with 4GB internal memory |
| Connectivity | Bluetooth, Wifi, NFC and GPS/Glonass |
| Sensor and Tracking | Heart Rate sensor, accelerometer, gyroscope |
| Charging Method | Wireless |
| Battery Size | 380 mAh battery cell |
| Battery Drain Cycle | Up to 3 days |
It's very similar to the last Samsung's watch that we recommended in our best smartwatches in India list. They both have pretty much the same hardware including the touchscreen and display type.
But this smartwatch doesn't support cellular networks. Still, it supports voice call apps for free-phone calls. Its interesting feature is "Turn the Bezel". You can turn the bezel to Answer or reject phone calls.
Besides all the turn-the-bezel features, it can also do the fundamentals things like setting the 6:00 am alarm or stopwatch for your race, marking notification for the calendar, and other major features that all are included in this small packet.
Gear S3 Frontier recharges using the wireless dashboard. It's water-resistant up to 1.5 meters. So, I don't recommend you to buy this if you are a swimmer.
I would suggest you to buy Samsung Galaxy smartwatch which listed top in our list of the best available smartwatches in India.
Key features
Tizen-based wearable platform 4.0
Three tap emergency SOS
Turn the bezel to command a task
Stream your playlist to the Bluetooth headset.
Samsung Pay
Corning Gorilla Glass SR+
Always-on display
Qi wireless charging
4. Apple Series Watch 4
| | |
| --- | --- |
| Compatibility | iPhones only |
| Display Type | 1.78″ rectangular LTPO- OLED touch display |
| Memory | 16GB internal memory |
| Connectivity | Cellular, Bluetooth, NFC, Wifi, and GPS |
| Sensor and Tracking | Optical Heart Rate sensor, accelerometer, gyroscope |
| Charging Method | Wireless |
| Battery Drain Cycle | Up to 24 days |
So, again another Apple watch fits in our best smartwatches in India list. Apple Watch 4 supports music playbacks with dedicated fitness tracking apps and sensors.
It has IP68 waterproofing that can survive up to 50 meters and 30 minutes of submission underwater. It also has built-in GPS with mobile payments using Apple pay.
But it's sleeping tracker is best as per the activities record that can synchronize with your sleepy song playlist. This Apple 4 watch is also coupled with an electrical heart-rate sensor that is damn accurate.
But the Apple Watch won't work well with Google Wear OS or Fitbit Apps. So, they are only fully compatible with iPhones.
Features
Low and high heart rate notifications
Fall detection and Emergency SOS.
New yoga and hiking workouts.
Activity sharing with friends.
Personalized coaching
Monthly challenges and achievement awards.
Activated Siri assistant
5. Amazfit Huami Bip Touch Screen Smartwatch
| | |
| --- | --- |
| Compatibility | Android and iOS (Mi-fit app) |
| Display Type | 1.28 inches rectangular LCD display |
| Memory | 512 MB RAM with 4GB internal memory |
| Connectivity | Bluetooth, GPS |
| Sensor and Tracking | Heart Rate sensor, accelerometer, compass |
| Charging Method | Charging Clock (not true wireless) |
| Battery Drain Cycle | Up to 45 days |
Amazfit Huami is a reputed name in the smartwatches industry with some of its models being the favorite among users of all over India.
Amazfit Huami Bip is one of the most responsive smartwatches in its manufacturing unit. Though it cost only 5k its features and quality can admire you to invest in this watch and that is why we added it to our best smartwatches in India list.
It has an LCD always-on display that can capable to deliver you more than 40 days of battery life, which is much more than other smartwatches offering.
But with a limited notification window, as when you get a notification, you can only view them NOT respond to them. 
You get notifications in forms of vibrations to signify incoming calls or messages from your favorite messaging app called WhatsApp or Facebook. Just kidding! you can get all notifications from most of the mobile apps.
Key features
Mi-Fit App to connect the phone
Anti-Finger transflective screen
Always-on display.
You get notification only
Monitor heart rate and calorie burns counts.
Charging Clock dock
Multi-Sports Tracking tasks like track your runs and cycling along with map routes.
6. Samsung Galaxy Watch Active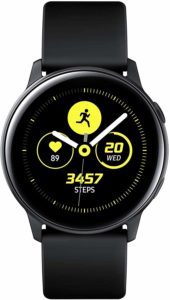 | | |
| --- | --- |
| Compatibility | Android and iOS |
| Display Type | 1.1 inch AMOLED display |
| Memory | 750 MB RAM 4GB internal storage |
| Connectivity | Bluetooth, WiFi, NFC, and GPS |
| Sensor and Tracking | Heart rate Tracker, Accelerometer |
| Charging Method | True wireless charging |
| Battery Size | 230 mAh battery |
| Battery Drain Cycle | Up to 45 days |
This Samsung Galaxy Watch Active is a compact smartwatch and users always relate its design to childish looks. But still is one of the best smartwatches in India under 20,000 Rs that you can expect to have.
Though it seems childish, this smartwatch is coupled with exciting features like an always-on display with a heart rate tracker and accelerometer. The heart rate tracker monitor will alert you instantly when you have an abnormal heart rate.
It's inbuilt 39 exercise modes along with the Samsung Health app works as your personal health guru. Apart from this, you can view your health summary in a surely single swipe.
There are dozens of traditional tools that you earlier seemed, to let you manage not just your fitness, but also your wellbeing.
Key Features
Always screen on functionality
39 Built-in Exercise Modes
Military Grade Durability
20mm Standard Watch Straps
Auto Stress Tracking & High HR Alert
50m Water Resistant with Water Lock Mode
7. Huami Amazfit GTS Smart Watch
| | |
| --- | --- |
| Compatibility | Android and iOS |
| Display Type | 1.65-inch rectangular AMOLE |
| Memory | 512 MB RAM with 4GB internal memory |
| Connectivity | Bluetooth,NFC, GPS |
| Sensor and Tracking | Heart Rate sensor, accelerometer, geomagnetic |
| Charging Method | Magnetic wireless charger |
| Battery Size | 220mAh |
| Battery Drain Cycle | Up to 14 days |
Without any second taught, I can say that the Huami Amazfit GTS Smart Watch is one of the best smartwatches in India under 10,000 Rs. But tough competition is done by an honors watch that we discussed later in this post.
Amazfit GTS Smartwatch is not so smart as Apple watches but still smart enough to present you an analytical data about your health.
There are 12 sports modes which include outdoor running, walking, and cycling, and other modes like treadmill, pool/open water swimming, mountaineering, skiing, and exercising.
Its always-on display is also a handy feature that likewise demonstrates its beautiful watch-faces without consuming a lot of battery power.
Key features
Extremely sharp colors with a bright display.
Always-on display with minimal battery usage.
12 different sports modes
Waterproof: Supports multiple swimming scenarios.
8. Huawei Watch GT Fortuna
| | |
| --- | --- |
| Compatibility | Android and iOS |
| Display Type | 1.39-inch AMOLED display |
| Memory | 16MB RAM with 128 MB storage |
| Connectivity | Bluetooth, GPS |
| Sensor and Tracking | Heart Rate sensor, accelerometer, geomagnetic |
| Charging Method | Two pins for the small circular charging dock |
| Battery Size | 420 mAh battery |
| Battery Drain Cycle | 2 weeks of battery life |
Huawei is a brand that has been popular in the Indian market in recent years. Huawei's smartwatch GT Fortuna has elegant-looking features with a competitive price that makes it room in our list of best smartwatches in India.
As Huawei products are well popular for their industrial design and build quality is up to notch and this is what is seen in mid-range Huawei smartwatch GT Fortuna.
Its bright, colorful, and crisp display makes you glazed even in direct sunlight.
But due to the impotence of speaker and microphone, you can only get notifications of incoming calls and only answer them using your smartphones.
This smartwatch uses Huawei TruSeen 3.0 heart rate monitoring technology that is accurate and efficient. The primary function of this smartwatch is health and fitness tracking. 
Key Features
Auto-brightness settings
Based on Huawei Lite OS.
Stainless steel body with classic watch design with features buttons on the right-hand side.
Do not disturb mode.
Find-my-phone feature with an accurate GPS location.
Some other handy features are Heart rate, Activity records, barometer, compass, weather, stopwatch, timer, alarm, and a flashlight.
Water-resistant to 5ATM
Huawei TruSleep 2.0
9. Honor Watch Magic
| | |
| --- | --- |
| Compatibility | Android and iOS |
| Display Type | 1.2-inch AMOLED display |
| Memory | 16 MB RAM 128 MB of internal storage |
| Connectivity | Bluetooth, GPS |
| Sensor and Tracking | Heart Rate sensor, accelerometer, geomagnetic |
| Charging Method | Catered on magnetic charge disc type-c charger |
| Battery Size | 178mAh battery cell |
| Battery Drain Cycle | up to 7 days. |
Honor watch magic can prove to be the ideal mate for your smartphones comprising of two main color options, one is black and the other is moonlight silver. In spite of its smaller display of 1.2-inch size, this can perform major tasks related to health-conscious people.
It can serve you with the main functionality of what other smartwatches does. Its features include an active sleep tracker, an accurate and reliable heart monitoring system, and also tracks records of your runs. 
They have dedicated exercise modes like exercise statistics of various types of exercises including outdoor and indoor run, outdoor walk, outdoor and indoor cycling, pool swim stokes recognition, mountain climbing, etc.
In spite of these advantages and features, the price of this product doesn't justify its features. This is why it is our last product of the best smartwatches in India.
Key Features
Always-on display option is available
Silicone-based strap for easy mobility while running.
Water and dust resistant up to 50 meters
Accurate step counter.
Real-Time Heart Rate Monitor
Alerts incoming calls, and messages.
Dedicated Various Exercise types Modes.
---
Best Smartwatches in India- Buyers Guide
What should you look for when you buy a smartwatch?
Buying a smartwatch will not be difficult when you consider this entire guide to select the best smartwatches in India.
Before buying the best smartwatch for you, you just have to evaluate various aspects such as durability, touch screen, motion isolation, display size and feature, comfortability, water-resistant, and many more.
We glanced at each of these features in detail for you.
So First Thing First! What type of user you are?
The choice of the smartwatch you should buy depends on the way you use them. Let us see how your style and needs influenced your decision to buy the right smartwatch.
Not all people use their smartwatches in the same way you do. Some prefer to use them on for their physical workouts whereas some prefer to wear them as traditional watches.
A. For Fitness Lovers
Fitness-conscious people should opt to buy a smartwatch that has an inbuilt heart rate sensor and GPS. An inbuilt heart rate sensor and GPS can help to track your runs with the right intensity without carrying any additional tech. 
So if your primary focus is on fitness and wants a wearable smartwatch then go for an inbuilt heart rate tracker, GPS, and exercise modes.
B. For all-day user
Normally, in a mid-day, your mobile's battery gets drained out and you don't want that to happen to your smartwatch, as you don't want to carry any additional charger for your watch. And hence you need a smartwatch that at least serves you a day or close to.
In addition to the longevity of the battery, you might need more advanced connectivity features like calling, messaging, paying bills, and even mailing to your boss. 
So, if your main goal is to indulge yourself with extra features and want something that'll not only help you at the gym or the office then you should consider a watch with monstrous battery backup meanwhile your needed features have not been compromised.
To sort out this I recommend you to go through a Samsung Galaxy watch if you are an Android user, and Apple Series Watch 5 if you have an iPhone.
Operating system
So the next big question you should ask, on which operating system you are going to use them? Because most smartwatches are designed to work as companions to specific companies smartphones like Apple's smartwatches.
"Don't buy a smartwatch unless you're sure that it will be compatible with your smartphone."
As in general there are two major operating systems for smartphones i.e. Android and iOS. So if you are using Android smartphone then you preferably to go for the smartwatches that have the supports same OS.
A. Tizen Smartwatches
Samsung's smartwatches are based on Tizen operating system that is compatible with both android and apple iOS. But as per optimization and seamless interactive experience, it works better in Samsung's smartphones than iPhones.
Tizen offers easy setup without a hectic setup that probably confuses you that are commonly seen in android wear and apple watch. These devices also support wifi and cellular networks.
B. Fitbit Versa
Fitbit targets health-conscious users. With its built-in scheduler, heart monitoring and smart notification tear your workout in the digestives chucks.
Fitbit has not a dedicated OS for smartphones so they work with both Android and iPhones. But for android users, Fitbit added some more tweaks like accept calls, check mobiles notification with quick replies.
And it's Fitbit notifiers squeeze out all your workout data directly on the app screen. So, if you really want a smartwatch at low cost without compromising your fitness goals then Fitbits watches save you a couple of thousands of rupees.
C. Google's Wear OS
Wear OS previously known to be Android designed by Google for smartwatches and other wearables. They are compatible with both OS.
But for iPhone users, there are limited features available. Features, like adding apps and connecting the watch directly to Wi-Fi are not available on iOS devices.
So, the bottom line is that if you have an apple device you should by Apple's iPhone only.
But there is an additional tool that can help you to check your device's compatibility with Wear OS by just visiting Wear OS by Google works.
D. Microsoft Band
In contrary to all the above-mentioned smartwatches OS, Microsoft Band 2 is a window-based operating system that pushes notifications, emails preview and messages directly to smartwatches without hassling to check your laptops. It supports voice assistant Cortana that uses the Windows 8.1, 10 operating system.
Bottom line: Not recommended unless you a deep heart fan of Microsoft product.
E. Apple's Watch OS
As expected, most of Apple's products only work with Apple's ecosystems and this trend also followed in Apple Watches. They are only compatible with Apple OS.
iPhones have a pre-installed elegant designed Apple Watch app with a clean and futuristic design that can deliver all add ons features with a snap of notifications.
In addition, you can also download various other apps from their app store for more customizable user experience, real-time data analysis, and other features.
Few more things to consider other than the compatible OS.
When you are choosing a smartwatch's operating system, there are a few more things that you should acknowledge beyond the basic compatibility of the operating system i.e. security and updates.
For example, to demonstrate this, you can consider two software, Google wear, and Apple Watch OS. Both are specifically designed for smartwatches through their version and security differs the most.
Android wear is an open-source platform whereas watch OS has a strict policy and terms in which every watch app developers have to follow them.
Style and Watchbands
Have you stuck with your mobile back look and want to change but you do nothing for your smartphones except back covers. This problem is geared up in smartwatches with watch bands.
There are a lot of customizable watch bands that are available, some company provides along with watches and some you get from your near shops.
There are basically three types of Watchbands standards 16mm, 20mm, and 22mm. Hence, if you get bored with your leather band then you can surely an option to switch it to stainless steel with minimal cost.
Or if you have a new year's resolution of running a mile daily with 50 push-ups then I highly recommend you drop the idea of using stainless steel bands and stick with silicone-based watch bands.
Displays and Its features
A. OLED and AMOLED
OLEDs and AMOLED have individuals emulating pixels that can give you a great contract with a deep black color.
They are highly battery efficient with compact size. The viewing angles are also good that gives a realistic feeling like a classic watch. But these displays get permanently damaged by direct sunlight.
B. LCD
This crystal display has a backlight that works well even when you have outdoor conditions but at the same time counter with battery performance.
Due to continuous backlight functionality, it drains a tremendous amount of battery. Hence not a battery-efficient display.
C. Black-and-White Displays
These displays are outdated and seem not that classy. But you can achieve that amount of battery life that no other display panel can give.
These displays use e-ink or e-paper display that gives a high contrast. You can even see them clearly in direct sunlight.
Water-resistant and Waterproof
You can understand Water-resistant device as the ability to resist the penetration of water to some degree for some period of time. While the waterproofed device is impermeable to water, no matter how much time it spends in the water.
If you are a swimmer, the waterproof watches are the best option for you, and for the rest of the users, water-resistant can save your smartwatches life up to a few hours.
So, whether you are an athlete or normal user water-resistance is the must-have feature in your smartwatches. Hence, don't forget to check the water-resistance values for your smartwatch.
Glass Protection for Smartwatches
You are familiar with screen protection on your smartphones, mostly from Corning Gorilla Glass which protects devices from wear and tear.
But now smartwatches have strengthened glass protection too for better touch capabilities and also to protect the device from any scratches and drops.
Interface
The interface is a way by which you can interact with your device and for smartwatches, they can be a touch screen or buttons or both, that are available to interact with your wearables.
A. Touch screen
It is gesture-based interaction via screen display by using tabbing and scrolling to select and invade a specific task.
The touch screen is generally of two major types, one is resistive and second capacitive. Capacitive displays are easy to operate without much-needed application force.
B. Buttons and bezels
In addition to the touch-screens, some smartwatches use buttons or rotating bezels around their front screen to navigate in between the apps and features.
Either you are adaptive to old prone watches with mechanical buttons or smartwatches touch-screens are too small for you then buttons and bezel features enriches your feel without pinching the small display.
Notifications and Alerts
One more place you get distracted with the boss's work is from your smartwatch's notification. Smartwatches are capable of notifying you the text messages, email, incoming calls, missed calls, schedule, appointment reminders and alarms. Some smartwatches have the DND option to opt-out of your notifications for a period of time.
Now let's assume, you are drunk and forgot your phone on the desk of a bartender, and suddenly your smartwatches start vibrating and alarming you that your device is far from your reach.
This feature generally works with a phone locator app that has Bluetooth support or real-time GPS.
Battery Life and Charging in Smartwatches
Modern smartwatches are power-hungry. They use the same battery type as your smartphones have i.e. Li-polymers or Li-ions.
The average of smartwatches doesn't last more than 2 days. The most popular brands like Apple and Samsung also suffer from their battery performance.
The main cause of battery drain in smartwatches is their active connections and on-display. Active connections like GPS, Bluetooth, heart tracking sensors are the main cause of draining the battery.
So, a long term session of a marathon with active GPS and heart rate monitoring can drain your battery twice faster than the regular usage. Apart from this, the type of displays and onscreen times also affect battery life.
Therefore, you need to hook up a charger again and again on a daily basis. But if you have a wireless charger which Apples and Samsung watches have inbuilt feature, you can cut your messy work of hooking them at least a day.
Special Features
A. Activity Trackers: Heartbeat Tracker and GPS:
Heartbeat tracking sensor works on the basis of how fast blood is pumping through the capillary veins. These data are used to interpret as your heart rate in a "beats per minute" form.
On the other hand, GPS is based on the triangulation method. So, if you are sitting in the metro then a set of three GPS data from three different positioning satellites interprets your estimated locations.
B. Voice control
"Hey, Siri!", the voice assistant for Apple users that can be used to trade out the specific tasks. And this is a handy feature to which you can assist tasks on the smartwatches.
Some features like setting alarms snoozing notification or searching on maps can easily manageable using your voice.
C. Calling
While calling is not much popular still some people use their hand's wrist to call their boss. It seems very futuristic but a smartwatch with a cellular network call be used for calling.
D. Mobile Payments
Wanna order Espresso from your favorite Starbucks? You just have to swipe your hands not the card. Seems interesting? Ya, that possible with new generation smartwatches. This is an add-on feature to a new generation of Samsung watches.
E. Internal Storage and Multimedia
Most of the devices have internal storage that not only store device's apps but also multimedia files. Hence, you can enjoy your music while doing your pushups.
---
Final Words on Best Smartwatches in India
So we have now discussed all the best smartwatches in India followed by our well-researched buyer's guides.
At last, these are our final list of recommended best smartwatches for Indians.
Our top recommendation is
Samsung Galaxy Smartwatch 46 MM
Our Top recommendation for Apple users
Apple Watch Series 5 (GPS + Cellular, 44mm)
Best smartwatches in India
under 5000 Rs

Amazfit Huami Bip Touch Screen Smartwatch

under 10,000 Rs

Amazfit: Huami Amazfit GTS Smart Watch

under 20,000 Rs

Samsung Galaxy Watch Active
---
Latest Post