Best Face Scrubs in India-Increasing pollution and harmful UV ray is responsible for making your skin dull and greasy. Today, most men and women are suffering from these skin-damaging issues.
Therefore, only cleansing-toning-moisturizing is not enough to make your skin soft and smooth. Besides this CTM routine, you also need skin exfoliation to make your beauty regimen complete.
Only a good face scrub help exfoliation to make your skin look healthy and glossy. It will efficiently remove all the dirt, impurities, and dead skin cells to make your clear and sparkling.
You can use it once or twice a week to make your skin free from pimples, acne, blackheads, and other issues. There are various types of scrubs available in the market.
Best Scrubs for Face at Home in India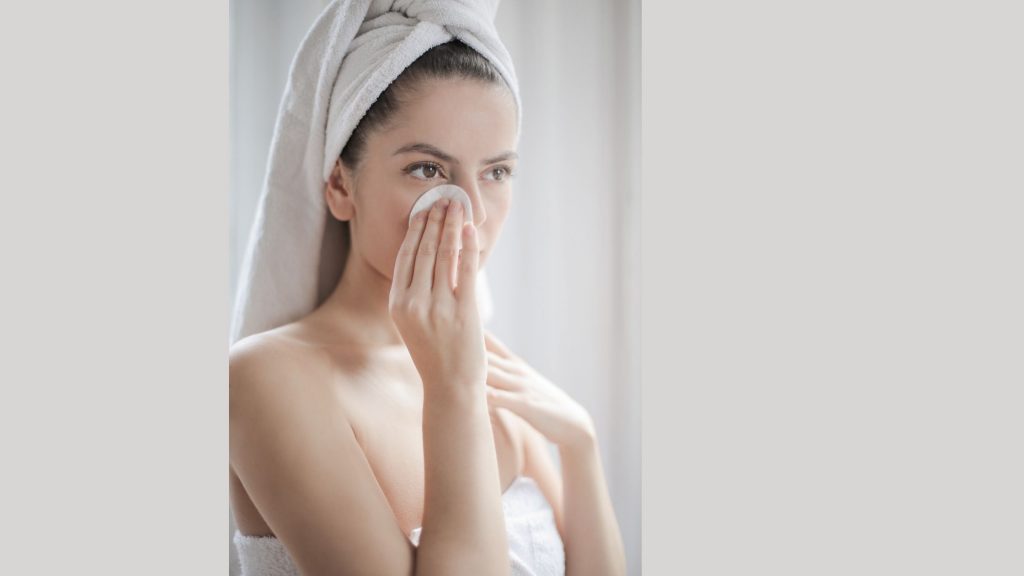 It would help if you chose the face scrub as per your skin type. To do your job easy, I have accumulated some of the best scrubs for your face at home. Please go through this article to remove your all skin issues.
I will also add a detailed buying guide to help you make an easy and intelligent purchase at the end of this article.
Buying guides: Best face scrubs in India
Please go through the following factors that you should look for before purchasing-
Skin type: Those who have normal or dry skin should not choose a harsh face scrub. For those who have oily skin, BHA products will be helpful. Avoid over-exfoliation as it can make your skin dry.
For those who come with acne-prone skin, try to choose face scrub very carefully. Also, if you need, you can consult a dermatologist for further recommendation.
Natural ingredients: It is better to choose a face scrub that contains natural ingredients. These harmful additives may affect your skin completion. Face scrubs that come with plants or fruit extract will be beneficial for all types of skin.
Frequency: Regular exfoliation is not at all healthy for your skin. As per the medical experts, you can exfoliate only once or twice a week. Those who have oily skin should not use it not more than twice a week.
1.Biotique Bio Papaya Revitalizing Tan Removal Scrub
Features:
Dissolves easily
It helps to unwrap the natural brightness
Opens the pore
It comes with gentle refining action
Fights anti-ageing, acne and dark spots
Biotique Bio Papaya comes first on the list of the best face scrub for glowing skin that can make your skin fresh and clean.
It easily dissolves into your skin to open the pores and make your skin clear and fresh. It has a refining action to unwrap your natural brightness and makes your complexion look young.
Though it is compatible with every skin type, it is suitable for only women. It can lighten and brighten your complexion to make you look healthy.
Besides, the tan removing formula fights anti-ageing, acne, uneven skin tone and protects your skin from the harmful and polluted environment. You can also remove all the dark spots and blemishes from your skin to make you look rejuvenated and refreshed.
Pros
Removes tan
It does not cause skin irritation
Affordable
Makes skin glow
Cons
Little harsh
Poor packaging
---
2.Everyuth Naturals Exfoliating Walnut Scrub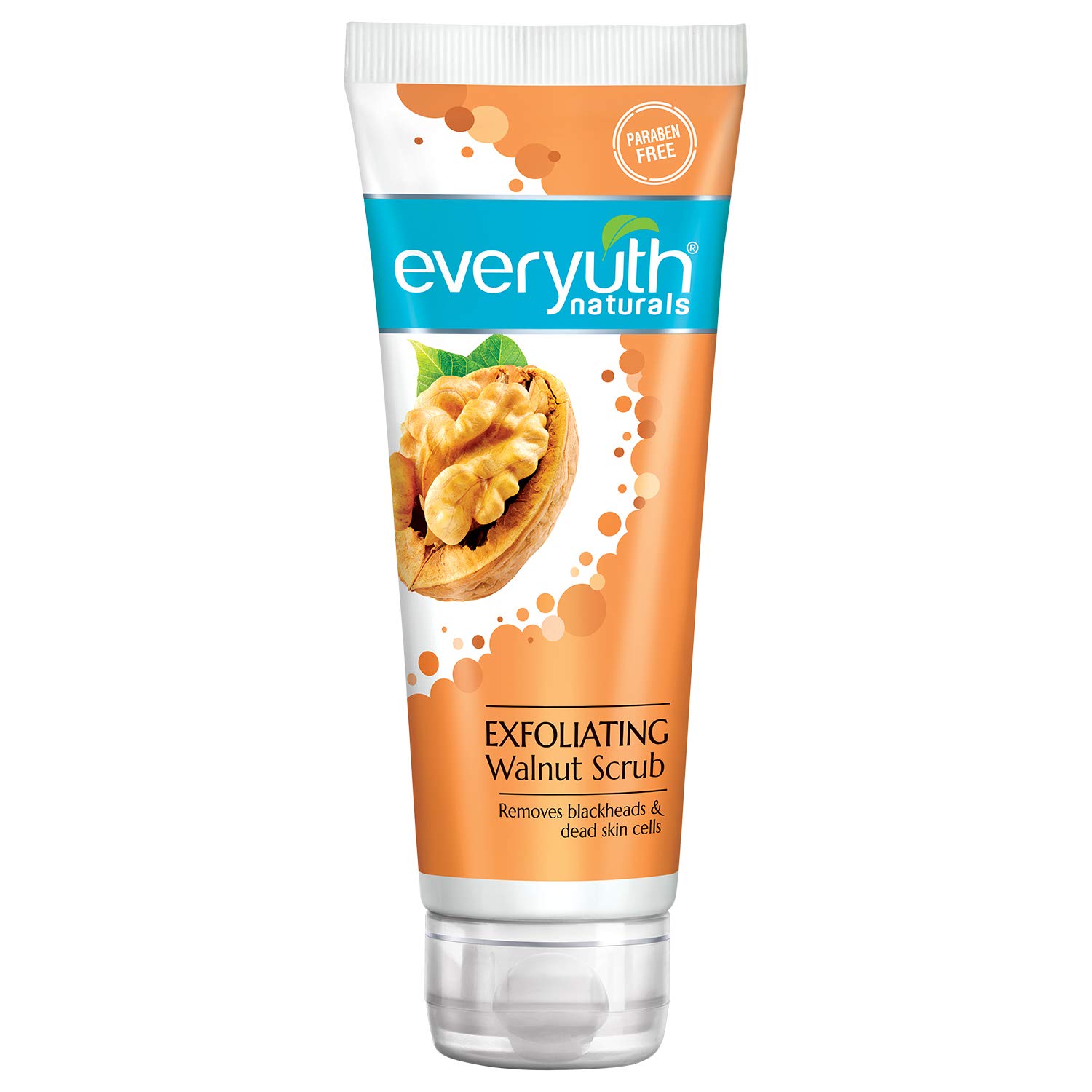 Features:
It comes with walnut shells
Enabled with Nano Multi-Vita combination
Featured with deep pore cleansing action
Removes impurities, blackheads, and whiteheads
Vitamin E is present
Everyuth Naturals comes with walnut shells to efficiently exfoliate your skin. It has all the ingredients to revitalizes your skin to make it look naturally beautiful.
Moreover, vitamin E is present to remove all the dead skin. Enabled with a deep pore cleansing action, it removes all the impurities and blackheads. It is a good combination of Nano Multi-Vita to make your skin nourished from the inside out.
It is suitable for all types of skin to make it look refresh and clear.
Pros
It makes skin soft and subtle
It comes with granular particles
Economical product
Removes blackheads
Cons
Cannot remove natural oil, blackheads efficiently
Not suitable for sensitive skin
---
3.Khadi Mauri Herbal Apricot Face Scrub
Features:
It comes with natural extract
Removes dead skin, impurities, and blemishes
Apricot and walnut shells present
Improves blood circulation
Maintains elasticity and balance
Khadi Mauri is another best face scrub for acne-prone skin in India to make your skin young and vibrant. Therefore, it terminates all your blackheads, acne, fine lines to give a rejuvenated skin.
Moreover, this apricot face scrub eliminates your facial oil and other impurities to keep you moisturized. Both apricot and walnut are present to add a smooth texture to your skin.
It also helps to improve your facial blood circulation. Thus, it maintains the elasticity and perfect tone of your skin. Khadi Mauri apricot face scrub is ideal for repairing your damaged skin tone.
Pros
Serves beautiful job
Good fragrance
Cleanses facial skin thoroughly
It makes the skin feel fresh
Cons
It leaves a certain amount of dryness on your skin
Cannot remove blackheads properly
---
4.Beardhood Tan Removal Face Scrub
Features:
Efficiently removes tan
Exfoliates to rejuvenate the complexion
Unclogs pore openings
It comes with vitamin C, B and E
Almond oil extract is present
Beardhood Tan Removal face scrub can protect your skin even from the harmful UV rays and leaves no tan. Therefore, it is the best face scrub for men to make their skin glow throughout the day.
Vitamin C is the main ingredient of this face scrub to remove fine lines, wrinkles, blackheads, acne, and other impurities. It also contains vitamin B and E to fight anti-ageing.
These ingredients also remove the stress to make your skin look radiant and fresh. It is the best scrub for the face at home with almond oil to eliminate all the fine lines and acne scars.
Pros
Very easy to apply
Open skin pores to deep clean the skin
Value for money
Makes skin soft
---
5.Lotus Herbals Apriscrub Fresh Apricot Scrub
Features:
Removes dead cells
Nourishes and moisturizes
Fights anti-ageing
Featured with triple action formula
Helps to maintain firmness
Lotus Herbals Apriscrub has come to make your skin look bright and radiant. It has all the ingredients to prevent dullness and compatible with mostly all types of skin.
It not only fights anti-ageing but also removes dead cells to make your skin glow. Enabled with the triple action formula, it safeguards your skin from inside out. Thus, it also helps to maintain the firmness of your skin.
It works as a natural cleanser to make your skin polished and bright.
Pros
Reasonably priced
Nice packaging
Feels fresh
Makes skin smooth
Cons
Scrub granules are a little big
Not suitable for dry skin
---
6.Mamaearth Ubtan Scrub for Face
Features:
Removes tan and maintains skin glow
Eliminates impurities and dirt
Lightens skin tone
It comes with no preservatives
Turmeric, walnut and saffron are the primary ingredients
Mamaearth Ubtan scrub comes next in this list of the best scrub for the face at home. Turmeric, walnut, and saffron are the primary ingredients of this face scrub.
Turmeric not only fights anti-ageing but also helps anti-inflammation. Walnut helps to exfoliate the dead cells to make you look refreshed and active. Saffron comes with all the necessary vitamin and anti-oxidants to soothe your skin.
This face scrub is also beneficial to remove the suntan. It is dermatologically tested and has no additional preservatives to make it natural.
Pros
It suits all skin types
Removes suntan
It does not contain harmful chemicals
Good smell
Cons
Delivery may take little time
---
7.mCaffeine Naked & Raw Coffee Face Scrub
Features:
Exfoliates skin
It comes with coffee and walnut grains
Increases collagen production
It does not contain harmful chemicals
Reduces the puffiness
mCaffeine face scrub exfoliates the skin to make your dull skin livelier. It removes blackheads, impurities, and dirt to give a rejuvenating skin. Therefore, it is the best face scrub for oily skin that makes skin nourished and young.
Moreover, it not only improves collagen production and elasticity but also reduces puffiness. It comes in an affordable price range and does not contain any preservatives.
Pros
Smells good
Reasonable
Helps de-tanning
Promotes blood circulation
Cons
It makes skin a little dry
Not suitable for dry skin
---
Conclusion:–Best face scrub in India
A face scrub can efficiently exfoliate your skin to remove all the dirt, oil, and impurities to make your skin healthy and rejuvenated. All the above face scrubs are readily available and come with all the essential nutrients.
You can choose any one of them to give an excellent texture to your skin.
Latest Post-
---