Best Face Massager-Who does not want to get flawless skin? If you have smooth and glowing skin, you can easily make an impression. Only an effective massage can give you clean and healthy skin.
Indeed, most of us do not get time to visit the salons to get proper skincare regularly. Here comes the importance of a home facial massager. The best home face massager can improve your skin instantly to make your day.
A good face massager can remove all the dirt, oil, and another residue from your face to make you look fresh and rejuvenated. Besides, it also improves blood circulation to relieve your muscles from everyday stress and tension.
Best Home Face Massager Machine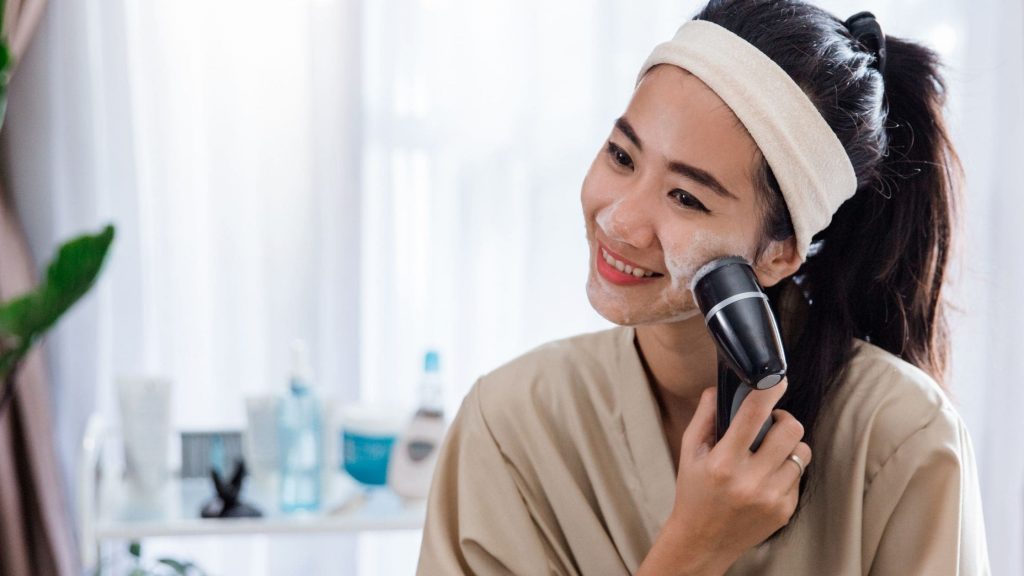 Nowadays, the demand for these facial massagers has increased rapidly. For this, numerous companies have come up with endless options. You may feel confused about finding one for your skin.
Therefore, I did good research to find some of India's best face massager machines with their detailed specification.
Please dive in to pick one to help your daily skincare.
1.HEMIZA Brush 5 In 1 Facial Multifunction, face massager
Features
It comes with five massaging heads
Excellent battery
Ergonomic designed
Designed with a power button
Portable
---
HEMIZA Brush comes first in this list of the best face massager machine with having five different tools for various purposes. It acts both as a face massager and facial cleanser.
Design
HEMIZA multifunctional brush is lightweight and comes in a compact size. Therefore, you can put this massaging brush quickly in your purse. So, you can carry this travel-friendly brush with you wherever you want.
You will notice a power button at the upper side that allows you to monitor the massaging speed.
Function
HEMIZA face massager has five different face heads to deliver an excellent massage. The first massaging head looks like a brush to clean your face. The second face has rigid foam that acts as a facial pain reliever.
The third and fourth massaging head comes with soft foam that gives you a soothing massage and removes your make-up to make your skin clean.
Last, four circular bumps present in the fifth massaging head deliver a proper facial massage.
Battery
It has dual AA batteries present at the end part with an excellent backup.
2.Nova 5 in 1 Face Massager
Features
It comes with five massaging attachments
2AA excellent battery backup
Suitable for both head, face, hands, and feet
Ergonomic designed
Made with plastic
---
Nova face massager comes second on my list and provides an excellent massage to improve your blood circulation. It has various features and comes with five different accessories.
Design
It comes in a compact design to easily carry it wherever you want. There is an ergonomically designed handle present in this massager that perfectly fits with your arm.
Function
It can be the best face massager for glowing skin to deliver a soothing massage to both your face and body. A ball massaging head is present to remove all the dead cells that may block the pores.
You will find sandpaper massaging the head to get rid of the dead cells from both your hands and feet. The soft massaging head will exfoliate your skin to remove all the dirt.
They attach a sponge head to help you to clean the face massager. You will also get a brush cleaning head to remove the dirt from your deep pores and the machine.
Battery
It has an excellent battery that allows you to travel comfortably for a long time, without tension.
3.Lifelong LLM126 Electric Face Cleanser Massager
Features
It comes with 360-degree rotational massaging heads
4AA batteries present
Available in a cordless structure
Made with plastic
Suitable for both face and body
---
Lifelong LLM126 is the best electric face massager that comes with endless accessories to make your skin look younger and fresh. Moreover, it comes with a 1-year manufacturing warranty.
Design
This massaging unit is lightweight and comes in a compact size to help you to carry it easily with you wherever you want. It comes with an ergonomically designed handle to fit perfectly in your hand.
Function
This face massager removes all the dirt, oil from your face to add an extra glow. Moreover, it will also remove the under-eye bag to make you look younger. Lifelong LLM126 comes with numerous attachments-
It has a facial brush to remove the impurities, and a sponge will moisturize your skin. They attach a body buffing brush to exfoliate your skin. Last, you will receive a pumice stone to remove the hard cells from your feet and elbow.
Battery
It has an excellent battery backup to make the device run for a more extended period.
4.Caresmith Sonic Facial Cleansing Massager
Features
Removes blackheads and dead cells
Made with food-grade Silicon
Enabled with 7000 vibrations in a minute
Waterproof
It runs for more than 3000 minutes
---
Caresmith Sonic Massager is one of the best home face massagers that can remove all the impurities and make-up residue from your skin to make you look rejuvenated.
Design
The manufacturers use premium quality food-grade Silicon to make the massaging brush protected from bacteria. Therefore, it is 35x safe than the other competing brands.
Function
Enabled with a high-frequency split-plot massaging brush, it will help you remove the blackheads and dead skin cells to give you a radiant and healthy complexion.
Besides, 7000 vibrations in a minute will promote good blood circulation.
Battery
The batteries take only 2 hours to get fully charged. A full-charge machine can run for more than 3000 minutes.
5.Lifelong LLM720 Face Massager
Features
It comes with 360-degree rotational massaging heads
Compact and portable
Waterproof
Rechargeable battery
Made with ABS plastic
---
Lifelong LLM720 comes next in the list of the best face massager for glowing skin. It has all the features and a wide range of accessories to make your skin look bright.
Design
This massaging device is compact and comes with an elegant, stylish look. The manufacturers use high-quality ABS plastic to make it lightweight. Moreover, you can easily carry this portable massager in your pocket when you are traveling.
Function
Lifelong LLM720 helps to exfoliate your skin to make a velvety touch. There is a soft fiber brush present to remove all the dirt and oil from your face. You will find a deep cleansing brush to help your acne and dead cells.
It also comes with a make-up sponge that helps to blend the cream into your skin and removes the make-up residue to make you look fresh.
Battery
This facial massager comes with rechargeable batteries to help you when you are traveling outside.
6.HealthSense Pure-Skin FB 09 Facial Brush with 2 Brush Heads
Features:
Enabled with 360-degree rotational speed
IPX7 waterproof
Featured with the dual-speed technology
Rechargeable battery
Made with Silicon
---
HealthSense FB 09 comes last on this list. The best part of this waterproof massaging unit is that it allows you to take massages when taking a shower. It will help your skin look radiant and bright.
Design
Standalone design is the main feature of this massaging unit. That means it can comfortably stand on its own. Most importantly, this facial massager is waterproof.
You can consider it to be the best brand of face massager to deliver the best output in moist conditions.
Function
This handy massaging brush helps to deeply clean and exfoliate your skin. Enabled with dual-speed technology, it can exfoliate your skin and remove all the dirt and oil deeply from your skin.
Battery
It has rechargeable batteries to make it travel-friendly.
Conclusion:
Everybody wants to make their skin, especially the face looks good. All the products mentioned above come with quality products to make your skin look rejuvenated.
Naturally, they can also enhance your mood and personality. Pick any one from these best face massager machines to make your day.
Latest Post-
---