Best Camera Under 20000-In this Puja holidays, you are going on a family trip? Or want to spend some candid moments with your friends? So, why are you not capturing those sweet moments of yours to cherish in the future? Though, most of us today are selfie maniacs. But in that case, you need to adjust to the quality of your images.
With the advancement of technology, digital cameras have substituted smartphone cameras. The image quality of these cameras is much better than the later ones. The tech-savvy young generation wants image amplifier technology to make their image livelier.
Best DSLR Camera Under 20000 Rs
The best camera under 20k can give you a professional range of photography. When you plan to buy a DSLR, you will find numerous options available in the market. To help you, I have come up with some of the best digital cameras under 20000. Please go through the article to capture your best moments.
1.Canon PowerShot SX430 IS 20MP Digital Camera under 20000
Specifications
Comes with a 45x zoom
Enabled with 20 MP sensor
Intelligent IS
Wi-Fi and NFC connectivity
Li-ion battery
---
Canon PowerShot SX430 is a powerful travel-friendly camera to make you capture excellent close-ups. This Canon SX430 is the best camera DSLR under 20000 that allows you to take professional photographs without making a big punch in your pocket.
Design
This ABS plastic made camera comes with an extra layer of rubber. It gives a beautiful finish to the camera along with a good grip. It is available in a muscular frame like a DSLR with having minimal buttons and an LCD.
Features
6.15 x 4.55 mm sensor and 20 MP CMOS sensor make you capture your precious moments very nicely. It has a 45x optical zooming lens to take an excellent close shot from a certain distance.
Miscellaneous
Enabled with Wi-Fi and NFC connectivity, you can share all the captured images directly on your cloud accounts. It has a rechargeable Li-ion battery that stays up to 2-2:30 minutes duration.
2.Nikon Coolpix B600 16.0 MP Point-and-Shoot Digital Camera under 20000
Specifications
Comes with 16-MP
Compact and lightweight
Enabled with Wi-Fi, NFC, and Bluetooth connectivity
CMOS sensor
Ergonomic designed
---
Capture both your close-ups and distant pictures beautifully along with a Nikon Coolpix B600 camera.
Features
60x optical zoom along with 120x dynamic fine zoom makes it the best camera below 20000. With these complete zooming options, you can capture a new quality picture from a certain distance.
Camera sensor
16 MP camera along with CMOS sensor allows us to take crystal clear images in any environment. Fisheye effect and filter ranges are some of the other added features.
Build quality
This compact size camera weighs only 800-grams. It comes in an ergonomic shape to make it hold more comfortably. Enabled with Wi-Fi, NFC, and Bluetooth connectivity, you can instantly share your photos with your family and friends.
3.Sony DSC-H300/BC E32 Cyber-Shot Point & Shoot Digital Camera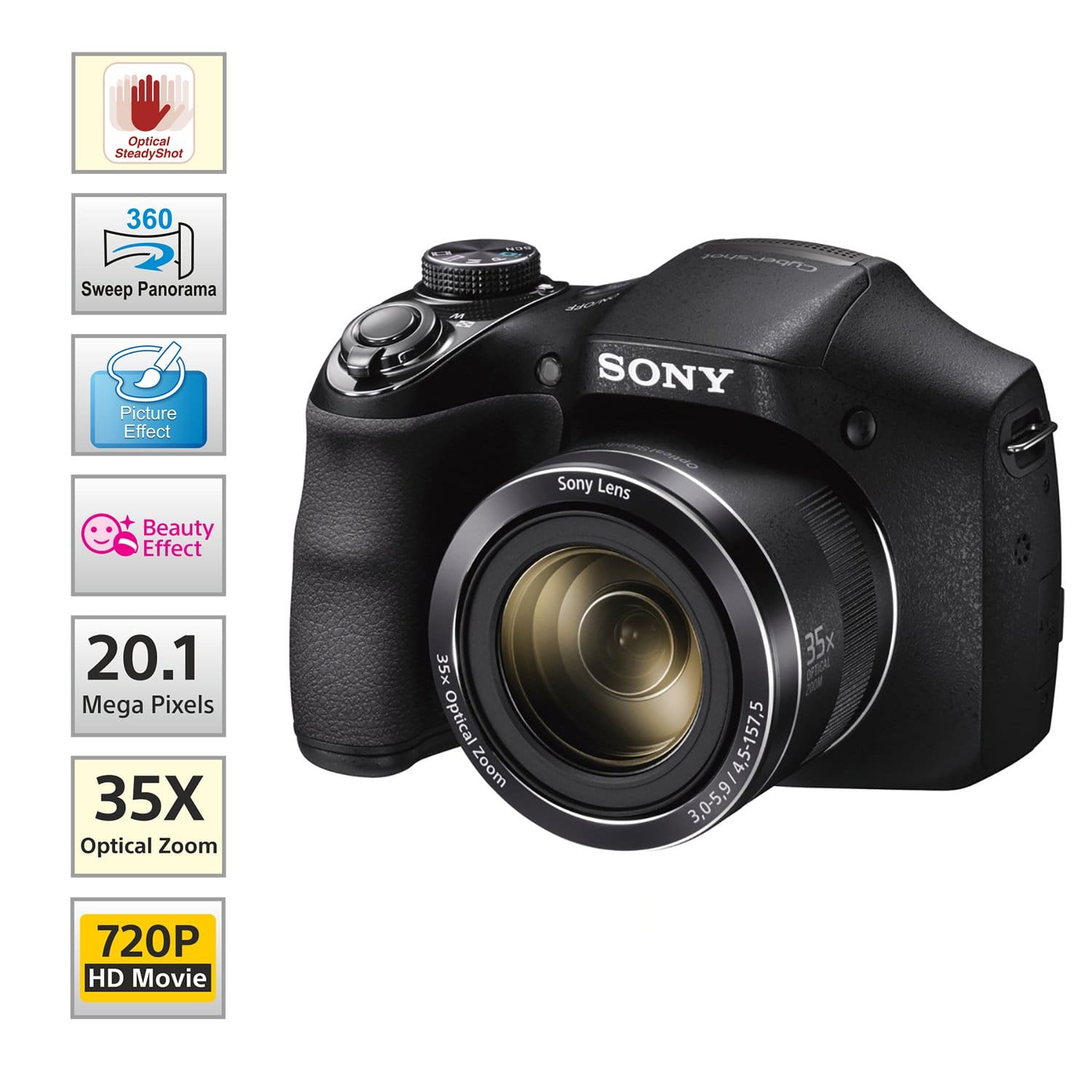 Specifications:
Enabled with 35x zoom and 20.1 MP sensor
Featured with panorama button
3-inch LCD screen
Auto Focus mode and Auto Focus illuminator
1fps shooting speed
---
Sony Cyber-Shot DSC-H300 has all the latest features to make your images livelier. For this, being an old model, it manages to come first in this list of the best camera under the 20000 range.
Features
Enabled with a 35x zooming range along with a 20.1 MP sensor, Sony Cyber-Shot can steal your heart with realistic captured images. An in-built IS and 1fps shooting speed is enough to make this shooting device a leading one.
Moreover, panorama mode is another added advantage that you are going to enjoy with this device.
Image quality
It comes with a 25mm-equivalent wide-angle along with 875mm-equivalent telephoto features to help even beginners. Besides, Auto Focus modes and Auto Focus illuminator will help you capture crisp and sharp photos of all the objects' close.
Design
You will see a 3-inch LCD screen in this camera to view captured images very clearly. Sony Cyber-Shot H300 does not come with a viewfinder. Therefore, you can carry it firmly at your arm's length.
4.Canon PowerShot SX620HS 20.2MP Digital Camera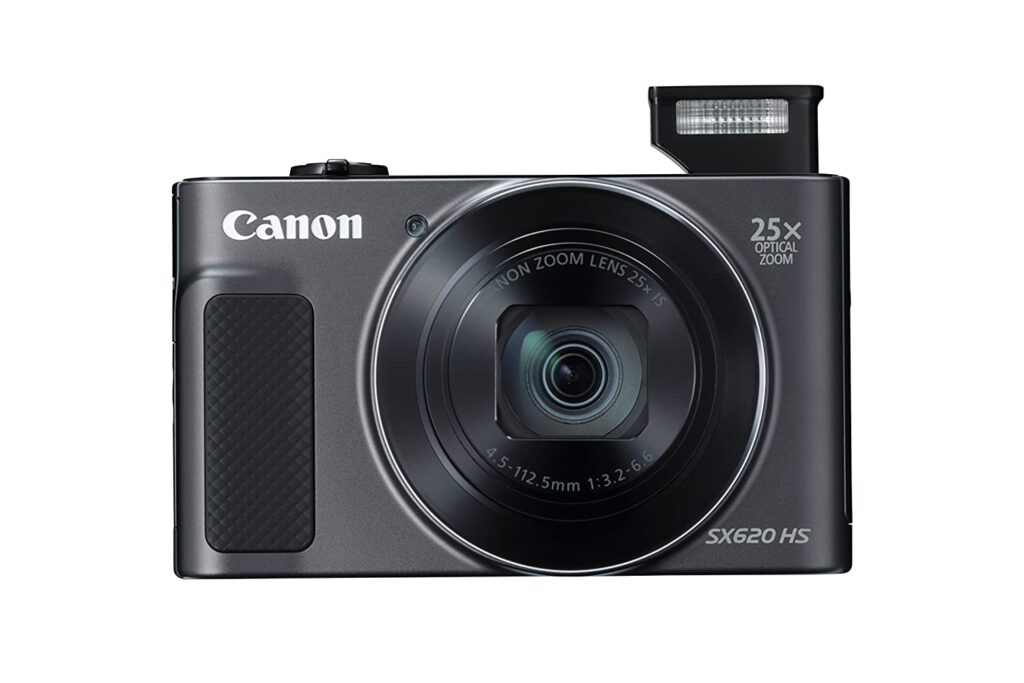 Specifications
25x powerful optical zoom
Comes with Intelligent IS
Enabled with built-in Wi-Fi and NFC technology
CMOS image sensor
3.0-inch LCD screen
---
Whether you are on your vacation or attending a family get together, or enjoy weekends with your friends; Canon PowerShot SX620HS would be your best pal.
Features
It has a 25x optical zoom to capture both near and far objects beautifully. Enabled with intelligent IS, it can take not only the close-up pictures but also the distant objects very accurately.
Design
This compact-sized camera comes with a 3.0-inch high-resolution LCD screen. It has 922,000 approx—dots with a wide viewing angle to view the captured objects.
Miscellaneous
Moreover, the built-in Wi-Fi and NFC technology make it the best camera under 20000 in India. Wi-Fi technology allows you to share all your captured photos and videos instantly on social media platforms.
5.Nikon Coolpix B500 16MP Point and Shoot Digital Camera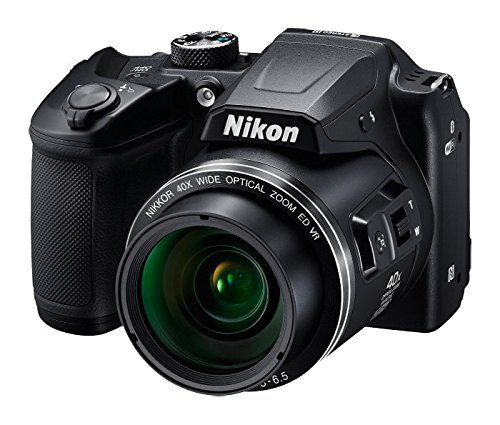 Specifications:
Comes with 16-MP
Enabled with 40x optical zoom and 80x digital zoom
3-inch LCD tilting screen
Four-way navigational buttons present
Featured with Af technology
---
Nikon Coolpix B500 comes next in this list of the best available cameras under the 20k range. Nikon itself is a renowned company that helps you to frame your candid moments very sharp.
Features
Both the 16 MP and 40x optical and 80x digital zooming capacity will help you capture clear images and videos. Those who love digital filters may like the Creative Mode option.
Moreover, you can switch on the VR button to minimize the camera shaking.
Image quality
Enabled with the latest Af system, it can shoot sharp images even in bright daylight. Therefore, it allows you to take photos with minute accuracy. You can consider it an ideal point-and-shoot camera to be suitable even for beginners.
Design
Nikon Coolpix B500 looks like an SLR camera with having a firm grip to hold it. It is lightweight and has an excellent build quality. There are four-way navigational buttons present in it to perform various functions.
You can even tilt the back of the screen up and down. The only issue you will face with this device is it does not come with a touch ability option.
6.Nikon Coolpix W150 13.2 MP Waterproof Camera with Full HD 16GB Card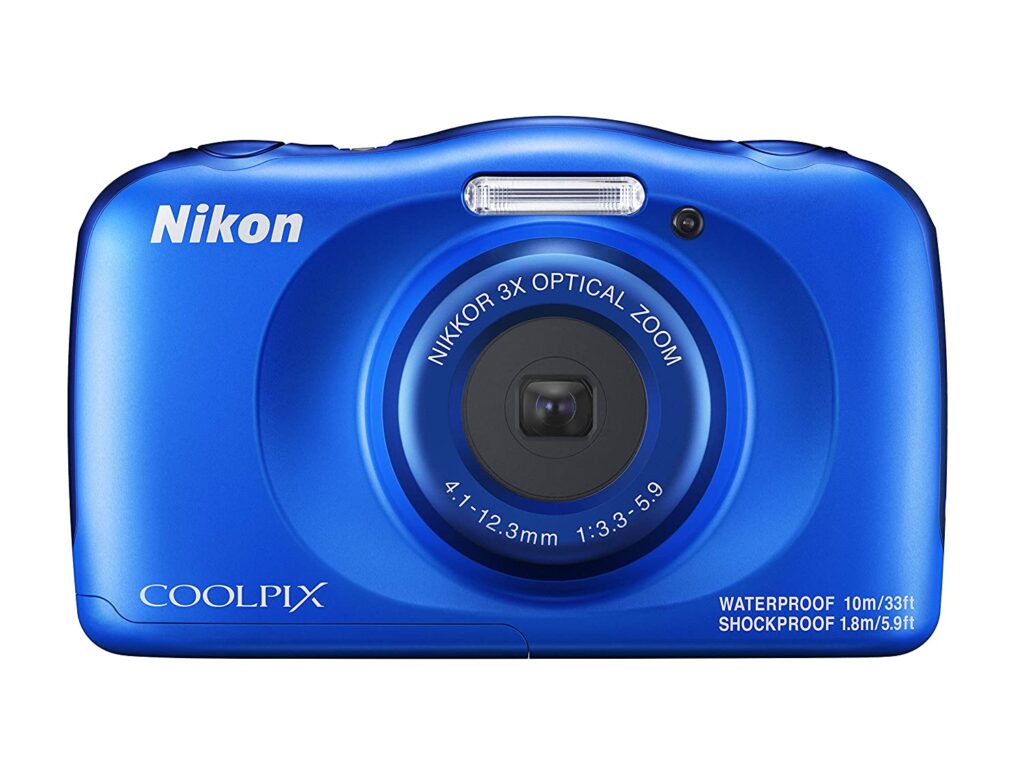 Specifications
10-meters waterproof
1.8-meters shockproof
Temperature resist up to -10 degree C
Can detect faces even underwater
Ergonomic designed
---
Nikon Coolpix W150 is here to be your smart companion in your adventurous journey. It allows you to capture photos in every environment.
Features
It is waterproof and can withstand up to 10-meters of depth. Shockproof up to 1.8-meters, cold-proof up to -10 degree C, and dustproof make Nikon Coolpix W150 the best digital camera in India under 20000.
Design
It is large and ergonomic, designed to make it user-friendly. It is durable and has easy-to-use operational buttons.
Performance
Come with 3x optical zoom, and 6x dynamic zoom helps you capture any subject from a certain distance. There is an image lock feature to prevent unwanted deletion of any of your precious moments.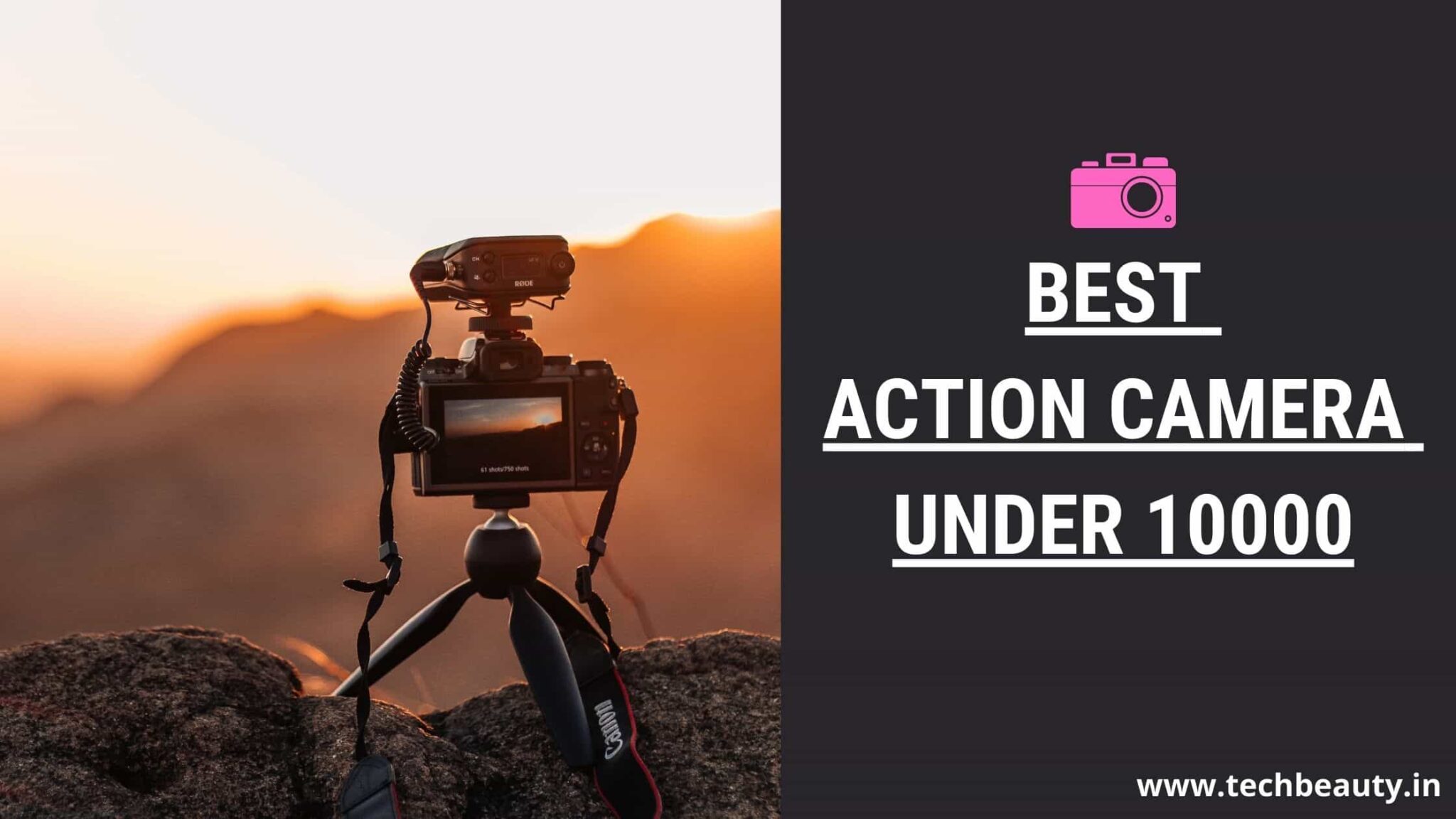 7.Kodak PIXPRO Friendly Zoom FZ43-BK 16MP Digital Camera 4X Zoom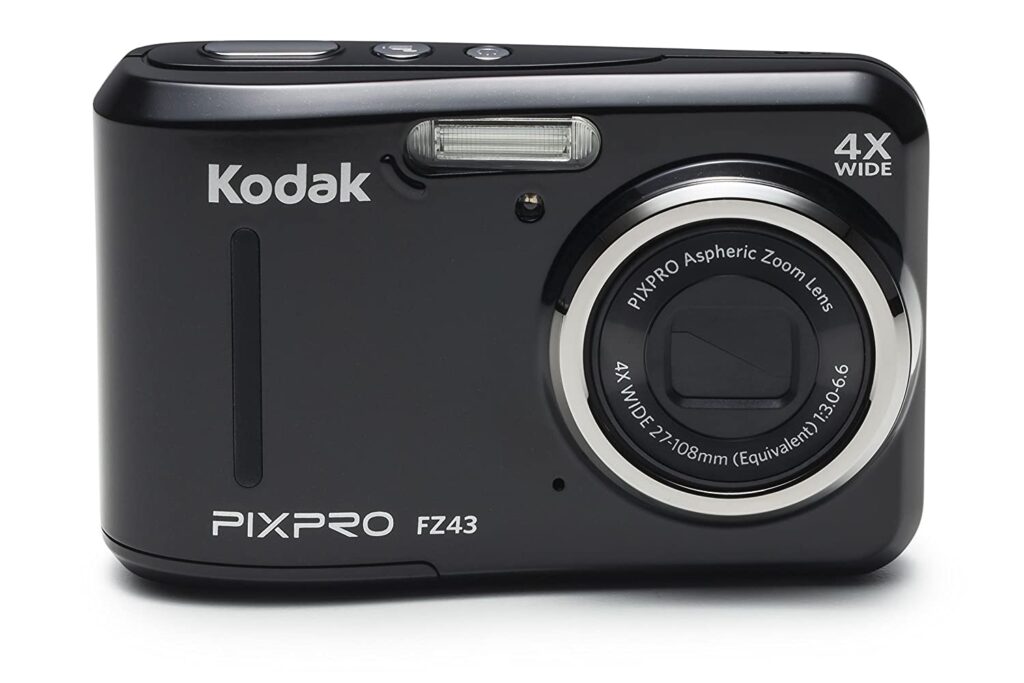 Specifications
Comes with 4.0 optical zoom and 6.0 digital zoom
Enabled with sensor resolution
A wide-angle lens is present
2.7-inch LCD
Comes with AA convenience good battery
---
Kodak PIXPRO FZ3-BK is a friendly digital camera to be your favorite companion.
Design
It looks good and comes in a compact size. It has a 2.7-inch LCD with smart functioning buttons.
Features
To surprise you, it comes with 27mm wide angles to allow you to come in one frame with all your gang. You need not worry about the quality of the images with the 16 MP of the camera.
Miscellaneous
720P HD videos make you record your memories lively. As it is portable, you can take this camera almost anywhere in the world you want. It comes with premium quality of AA batteries that gives you a good back up. It will not allow you to miss any single moment of your sweet memory.
8.Canon PowerShot SX540HS 20.3MP Digital Camera
Specifications:
It comes with a 20.3 MP sensor
Featured with DIGIC 6 processor
Wi-Fi and NFC connectivity
In-built IS
Compatible with EF and EF-S lenses
---
Canon PowerShot SX540HS comes last in this list of the best camera available under the 20000 price range. You may be happy to know that it comes with many more advanced features than Canon's predecessors.
Features
Enabled with a 50x zooming capacity and 20.3 MP sensor, it can shoot crisp and sharp images with every possible detailing. There is an in-built IS present in this shooting device.
Moreover, NFC and Wi-Fi connectivity allow you to connect your device easily with your smartphone. Though, the noise reduction process of this camera is not very efficient.
Possibly, it is the only negative point that you are going to find in this device.
Image quality
50x zoom and 5.9fps shooting speed are the most significant update you will enjoy with Canon PowerShot SX540HS digital camera. Moreover, a newly editioned DIGIC 6 processor is present to monitor various functionalities.
It helps to enhance the framing rate of this device. This digital camera from Canon can shoot an object very clearly, even in bright sunlight. But you may feel an issue shooting with it when the surrounding is dim.
Design
Canon PowerShot SX540HS looks like an SLR camera that comes with a reasonably lovely build quality. It is travel-friendly and offers a comfortable grip to hold this device properly.
8.Sony DSC-RX100 Cybershot 20.2MP Point & Shoot Digital Camera (Black)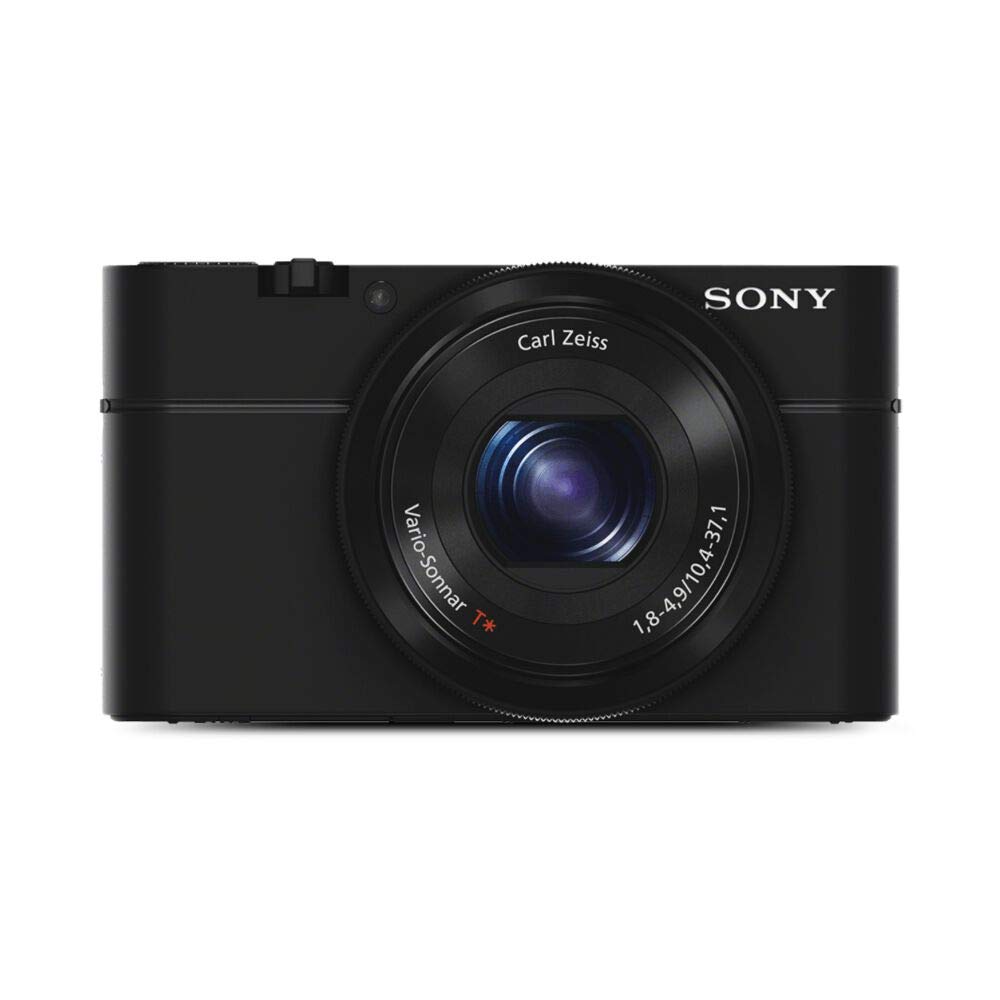 Specifications
20 MP CMOS sensor
3.6 optical zooming
Fully manual operated
Comes with HD video display
Amazing picture effects are present
---
Sony DSC-RX100 is a compact but powerful featured camera. In the list of the best camera in India under 20000, this will be noteworthy.
Design
It is compact and sleek in appearance. It is lightweight and made of Aluminium. There is a smart display to enable you to view the captured images and videos.
Features
It has a 1.0 sensor to capture the most accurate images than any other leading camera. Enabled with a 3.6-optical zoom makes you grab the best quality image and video. There are multiple picture effects available in this device to offer you to choose as per your shooting requirement.
9.Canon PowerShot ELPH 180 Digital Camera w/ Image Stabilization (Silver)
Specifications
Perfect for close-ups
Two shutter buttons are present
Compact sized
Beautiful display
Rechargeable good batteries
---
Last in my list of the best cameras under 20000 rupees is Canon PowerShot ELPH.
Performance
With this camera, you can capture excellent close-up snaps. Most interestingly, it comes with two shutter buttons to make you capture photos more accurately. The only negative aspect is it does not have good zooming power.
Build quality
It is compact. Therefore, you can take this small-sized camera anywhere you want. The display colors are beautiful and crystal clear. It has a good rechargeable battery that will not allow you to miss a single moment of your desire.
Buying Guides of Digital Camera
There are various features that you should look for while buying a digital camera. Please go through the below-mentioned buying guides to know some of the primary factors-
Manual mode: It is the feature that allows complete creative control of an image. That indicates you can select aperture, ISO and shutter speed as per your choice.
So, before purchasing, you must check whether it has manual mode or not. Nowadays, most of the DSLRs, along with few point-and-shoot ones, come with manual mode.
ISO: ISO indicates how much your camera is sensitive to light. Cameras with higher sensitivity allow you to shoot even in the dark. You must pick the cameras that have at least 1600 ISO.
Several cameras come with 25,000 – 1,02,000 ISO.
Megapixels: Megapixel denotes the resolution of the camera. It is inevitable; the more your answer, the clearer will be your image. Though, you need not always pick the camera with high resolution.
A 4MP camera can well print a 5×7-inch picture. 8MP camera is suitable to print 8×10-inch image. Those who want to take high-quality range image can pick a 20MP resolution device.
Ergonomic: The shape of the camera will be another notable factor. Most of the cameras come in an ergonomic shape to comfortably fit in your hand.
Size: There are several buttons present in the cameras to control the features. Before purchasing, try to check the appropriate size that you can easily hold to press the controlling buttons.
Weight: Try to choose a lightweight device to make it travel-friendly. Heavyweight cameras will be uncomfortable for you to carry around with you.
Durability: The manufacturers use sturdy material and weather-coating to make them durable and long-lasting.
Menu: Your camera must have a user-friendly menu system that allows you to easily navigate without using a user guide. Try to avoid the design that comes with the complicated menu system.
Wrap-up: Here concludes the list of the best camera under 20000. They all have advanced features to capture your cherished moments beautifully. Go and pick any one of these as per your criteria. Also, please share your experience with us in the comment section below.
FAQ